Indian Chai with Sukhi Kaur
Tue 06th October 2020
|
3pm
|
Sukhi's India, Quarantine Hill, Wicklow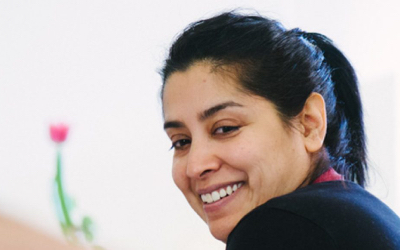 Sukhi Kaur is a mother of two and she started Sukhi's India thanks to the encouragement of her family and friends.
They loved her cooking style so much that she set out to make delicious, authentic food more accessible through her blending of spices, recipe creation and also through Sukhi's Indian Cafe in Wicklow town where people can go to eat and also enjoy cookery classes and demonstrations.
Sukhi sources the best whole spices which she then grinds, packs and distributes to local stores such as SuperValu, Avoca and other specialized stores.
She also creates recipes which have been passed down through generations of her family. From her success with her spices, and the popularity of her recipes on sukhisindia.com, she progressed her business by cooking the food which she is so passionate about using recipes which have been in her family for generations and serving it up in her cafe – Sukhi's Indian Cafe.
Today, on October 6, Sukhi will be demonstrating, from her cafe on Quarantine Hill, how to make an Indian Chai using her own blend of spice.
Chai is at the centre of Indian living.  It's used to keep cool in hot days and also for socialising. Each family would have there own Chai mix although the  ingredients seem to be similar. Chai is a blend of whole spices and you only need a pinch to flavour a pot of tea. Making traditional Indian Chai is a lengthy process which involves cooking the tea leafs and simmering the milk until you are left with a really lovely golden brown liquid known as Chai.
You can churn your chai which is an old tradition, this is done by straining the Chai from one pot to another.  Today, Sukhi will give an introduction on the whole spices  she uses.  She will show us the end product as well as showing us all how to make the Chai.  People can have a taster and if they wish to buy some mix, Sukhi has some available in her zero waste section.
Sukhi has loads of other fantastic recipes on her website