CANCELLED: Meet The Maker – The Birds and The Teas
Fri 30th October 2020
|
11am-4pm
|
Supervalu - Wicklow Town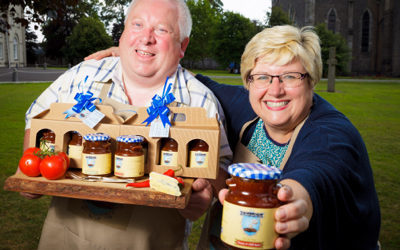 Olive and Pat are the makers of The Birds and The Teas – a delicious range of jams, chutneys and relishes which are selling the length and breadth of the country. These are a must on every table.
As part of Wicklow Naturally's October Feast, this husband and wife team will meet customers in Supervalu in Wicklow town on October 30 where they'll answer any questions you may have about these tasty jars of goodness.
Their produce is hand prepared, slow cooked and made from locally sourced Irish fresh fruit and vegetables whenever possible and each product is also entirely free from preservatives and most are gluten free.
We call these pots of goodness because Olive and Pat's products bring back childhood memories to our tables. They have gone to great lengths to perfect their products, some have been changed as many as 17 times to get it just right.
There's a great story behind this brand. Both olive and Pat have 30 years' experience in the retail and hospitality sector nut found themselves both redundant within a week. Olive is from a farming background and Pat is a master at selling so they decided to test the marketplace. Their delicious products sold so they decided to take it a step further. There was a yearning for home made, slow cooked chutneys and relishes and so that's exactly what they started doing.
So, while you're shopping in Supervalu on October 30, stop and say hello to Olive and Pat from The Birds & The Teas.
If you are not in town that day but would love to try their products you can buy them on their online shop.
To go back to our events page visit HERE