Rhoda Cocoa
Food & Drink Producers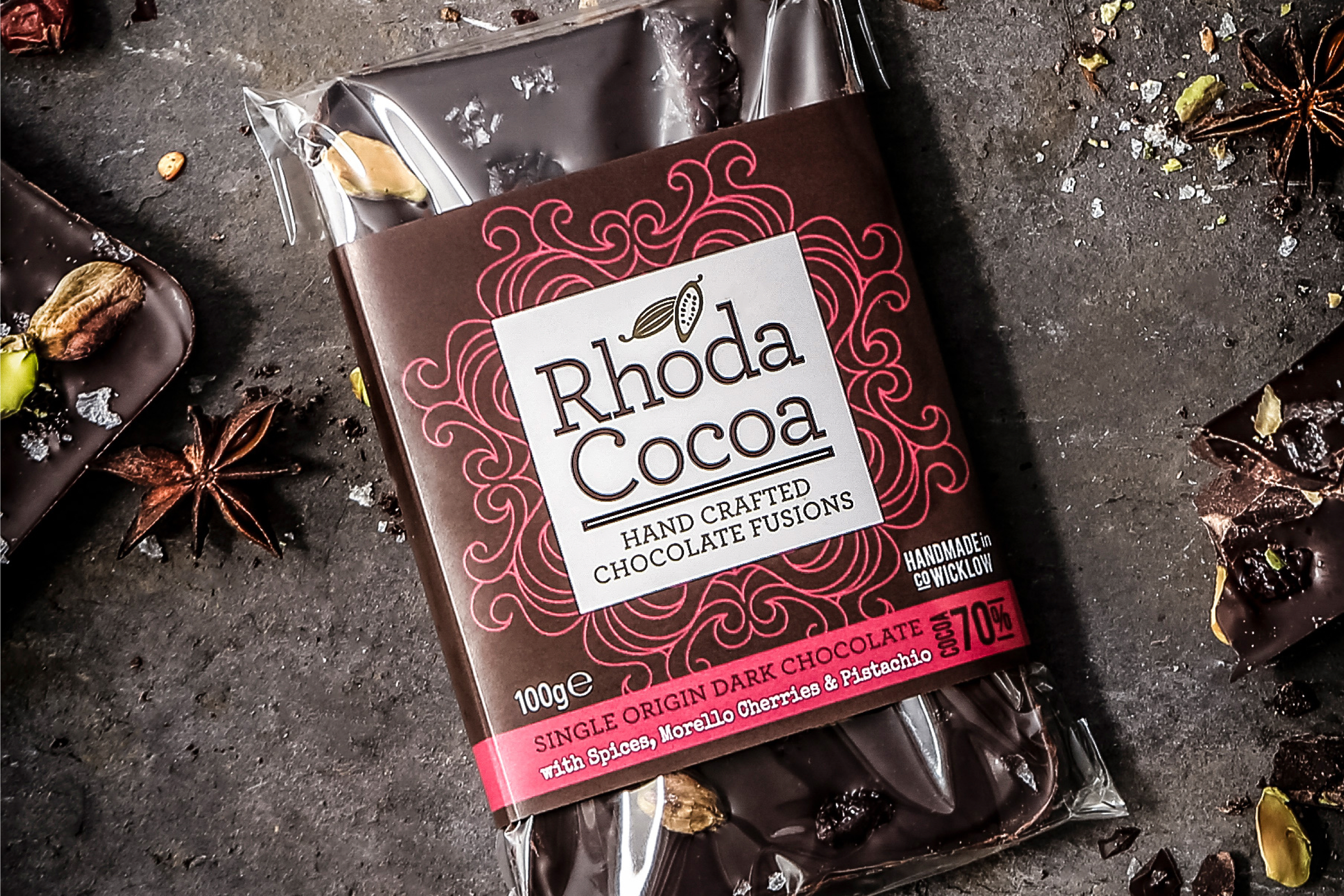 In a kitchen close to the sea in Bray, Co Wicklow, chocolatier Rhoda Kirwan makes handcrafted chocolate bars which provide a luxurious experience for all of your senses.
Rhoda sources premium quality fair-trade chocolate which she expertly pairs with flavour combinations featuring decadent fruits, nuts, spices, and her own handmade confections.
Each bar invites you to marvel in the unexpected meeting of sustainably-sourced chocolate with the likes of spices, morello cherries, caramel sprinkles, honeycomb, and crystallized ginger. These are just some of the flavour infusions which will delight your senses each time you bite into a chocolate bar from Rhoda Cocoa.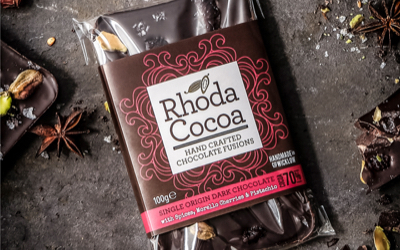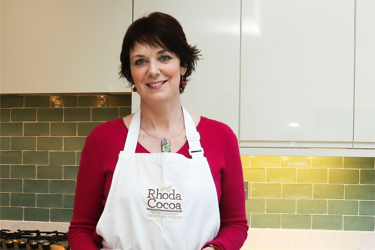 Since creating Rhoda Cocoa in 2016, Rhoda has won a total of eight awards: two Great Taste Awards and six Blas na hEireann Irish Food Awards.
In first creating her line of chocolate bars, Rhoda says she wanted to develop something that was an indulgence and a treat but was somewhat healthier. She was also very conscious of using ingredients without preservatives or additives and began developing bars inspired by flavours she already loved while sourcing the best ingredients to bring the chocolate bars to life.
Rhoda wraps all of her chocolate bars in 100 per cent compostable sleeves and recyclable labels so you can indulge your chocolate craving without adding to the huge amount of plastic waste in the environment. It's also important to Rhoda that her chocolate comes from companies that support slave-free farming so that the chocolate bar you bring home is produced as ethically as possible.
With Rhoda Cocoa, you're not only getting a better quality of chocolate and a unique taste experience, but you're supporting an independent Irish producer who constantly works to make your love for chocolate sustainable for the environment and everyone involved in the supply chain.
Rhoda crafts her bars so they can slip into your life and turn an everyday moment into a decadent one. From relaxing in the bath with a good book and a chocolate bar, to sharing a bar with your closest friends as the final course of a dinner party, let Rhoda Cocoa help you find your daily moment of delight.
You can buy direct from Rhoda Cocoa Shop
* Rhoda Cocoa is proud to be a member of Wicklow Naturally