Olly's Farm Honey
Food & Drink Experiences, Food & Drink Producers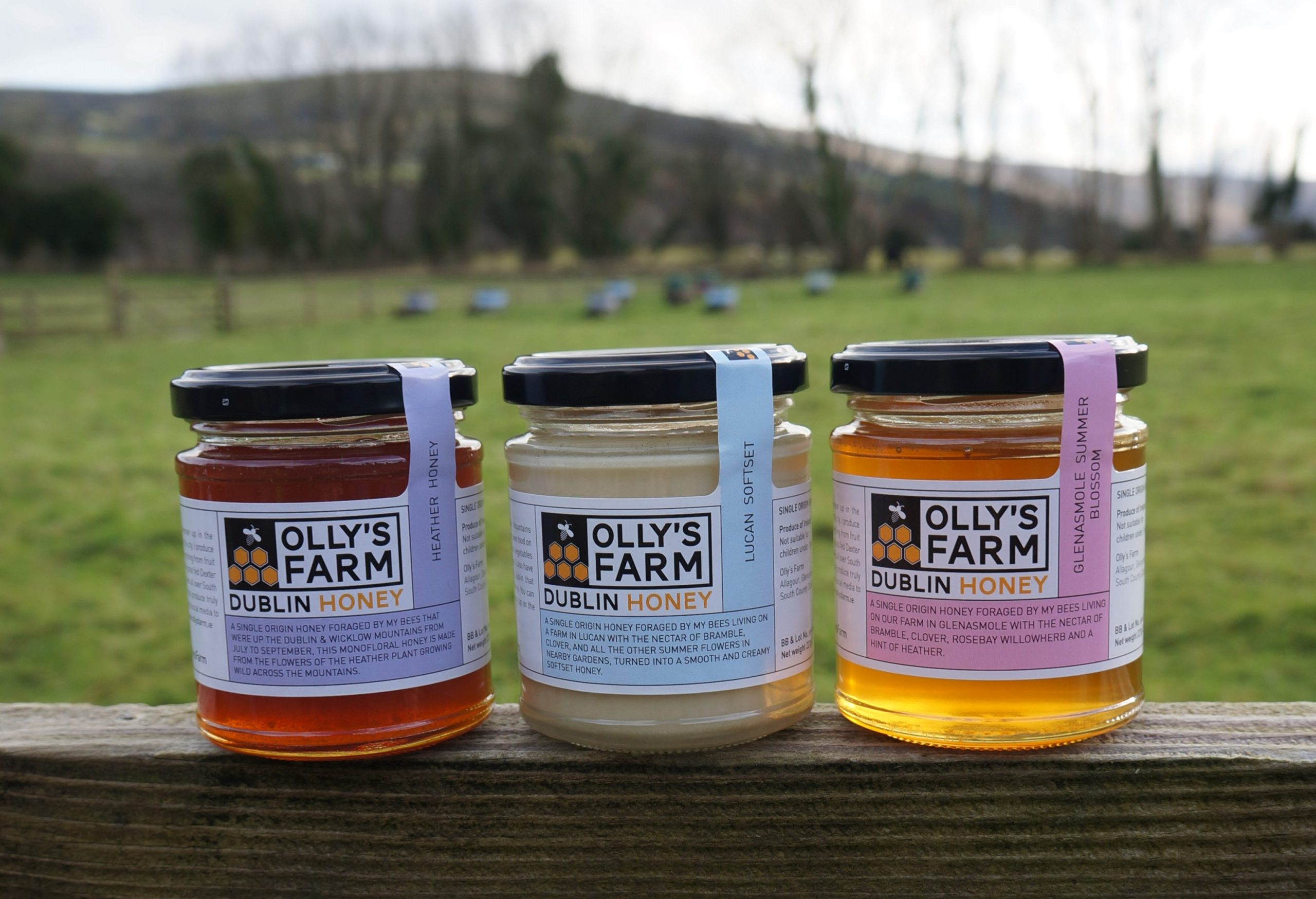 Olly's Farm began when Olly Nolan bought a house with some land in the Dublin Mountains, close to the County Wicklow border. With sustainability and self-sufficiency at the core of his journey, he set up his little farm as an organic smallholding and is now producing nearly all of his own organic chemical-free food, from beef, pork & bacon to eggs, dairy, fruit and veg.
He hadn't intended to start a honey business. Indeed, when he moved into the smallholding, he had only been beekeeping for about a month and had only planned on keeping a couple of hives for his own use. But very soon he had lots of people looking for honey and in 2016 with around 12 beehives decided to turn it into a business that now maintains over 280 beehives.
Olly has many different apiaries around South Dublin and North Wicklow. Some of his Wicklow apiaries are located on the grounds of Killruddery House & Gardens in Bray, The Powerscourt Estate, The Powerscourt Hotel and The Powerscourt Springs Health Farm. Some of these honeys include his range of blossoms, heather and softset. He's also producing pollen and propolis tinctures as well as recycling all his old beeswax and reusing it in his beehive frames with the excess creating beautiful beeswax candles. This sustainably removes the need to buy beeswax foundation for his frames and removes the risk of importing honeybee diseases into his beehives.
Olly's Farm has already scooped many awards including multiple Blas na hEireann(including Gold & Best Food Producer in Dublin 2017) and Great Taste Awards, recently a finalist in the Euro-Toques Land Category 2023, Irish Country Magazine Irish Made FoodFinalist 2022 & 2023 and also has been recommended by John & Sally in their McKenna's guide as 'Best in Ireland 2019-2023'.
All Olly's Farm honey is 100% raw, local Irish honey straight from his beehives, he doesn't buy or sell any other beekeepers' honey. Every jar produced is fully traceable back to the apiary it came from. When honey from an apiary runs out it's gone until the next harvest.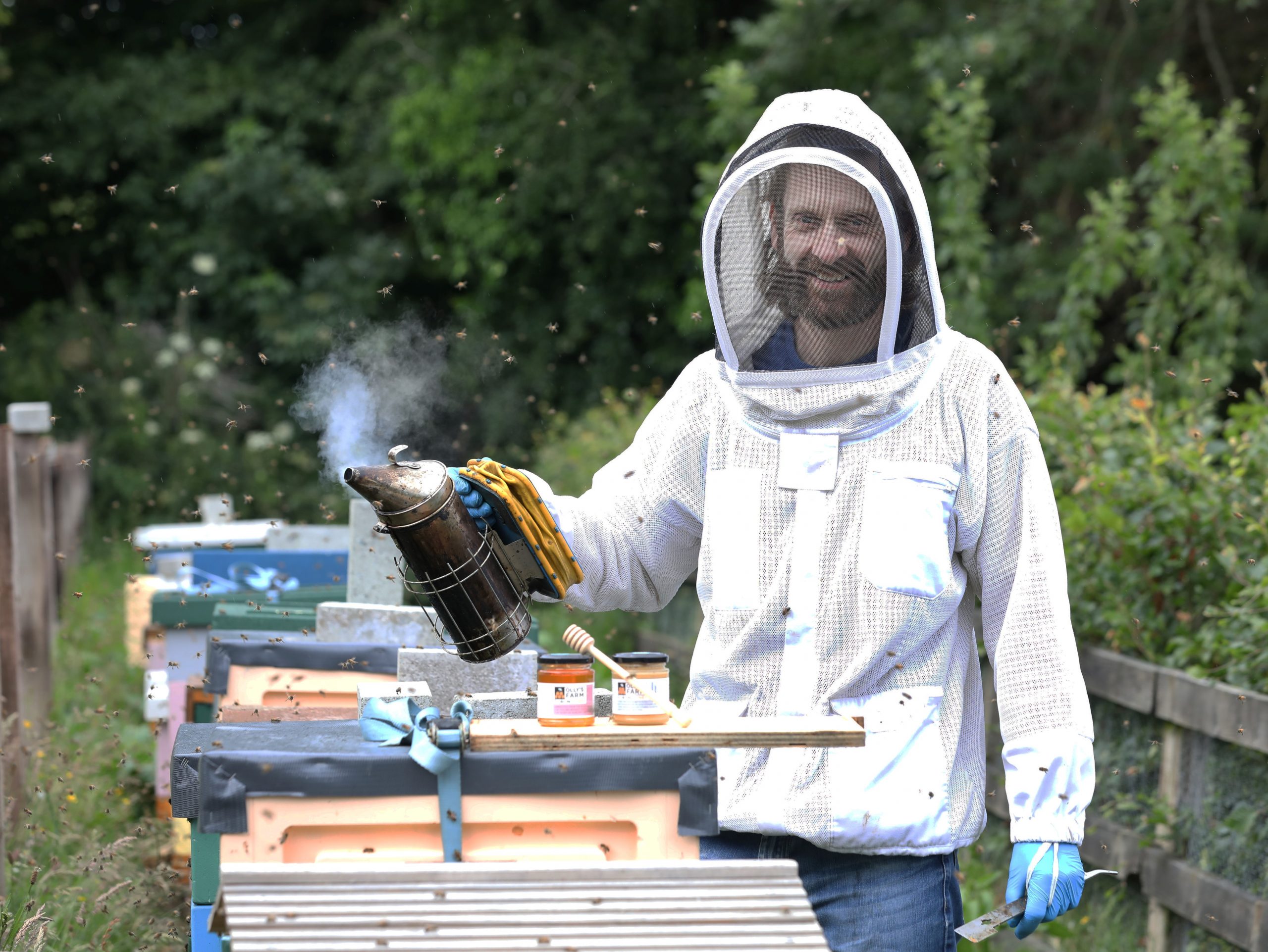 Olly explains that his raw Irish honey is honey that has had minimal processing and is not pasteurised in any way. The honey is extracted from the frames and cold-filtered.  The raw honey is never heated to make it pass through fine filters or to turn it into runny honey. As a result, Olly's honey crystalizes naturally and retains the taste and goodness of the scenic locations of the apiaries. Olly explains that by heating the honey, many of the health benefits associated with consuming local honey can be destroyed. 
Nature, biodiversity and the environment are a big part of what happens on Olly's Farm, as a result, he was named one of the first Farming For Nature ambassadors.
He runs farm tours where he shows people how he can produce all his own food here on his smallholding while keeping nature and biodiversity at the top of the list. This tour is laid out as a farm walk around the smallholding, finishing up with a honey tasting in the honey house. Tours can be booked here.
He also runs beekeeping experiences where anyone can come along and see what it's like to be a beekeeper. Learn how the bees work and make honey, get into a bee suit and visit the hives. There are many different honeys to taste that vary from location to location. You will see how the location of the beehives heavily influences the taste and colour of the honey. Beekeeping Experiences can be booked here.
He is a member of the Bee Farmers Association in the UK (the first member from Ireland). He is also a member of the Federation of Irish Beekeeper Associations (FIBKA) and has public and product liability for his produce. He is also registered with the Department of Agriculture and the Food Safety Authority of Ireland.
With hives in Killruddery and Powerscourt, a jar of  Olly's Farm Honey from his County Wicklow hives captures the delicious flavour, floral aroma and natural goodness of the Garden County. Follow Olly's Farm on Facebook, Instagram, and Twitter
Olly's Farm is proud to be a member of Wicklow Naturally.