Olly's Farm Honey
Food & Drink Producers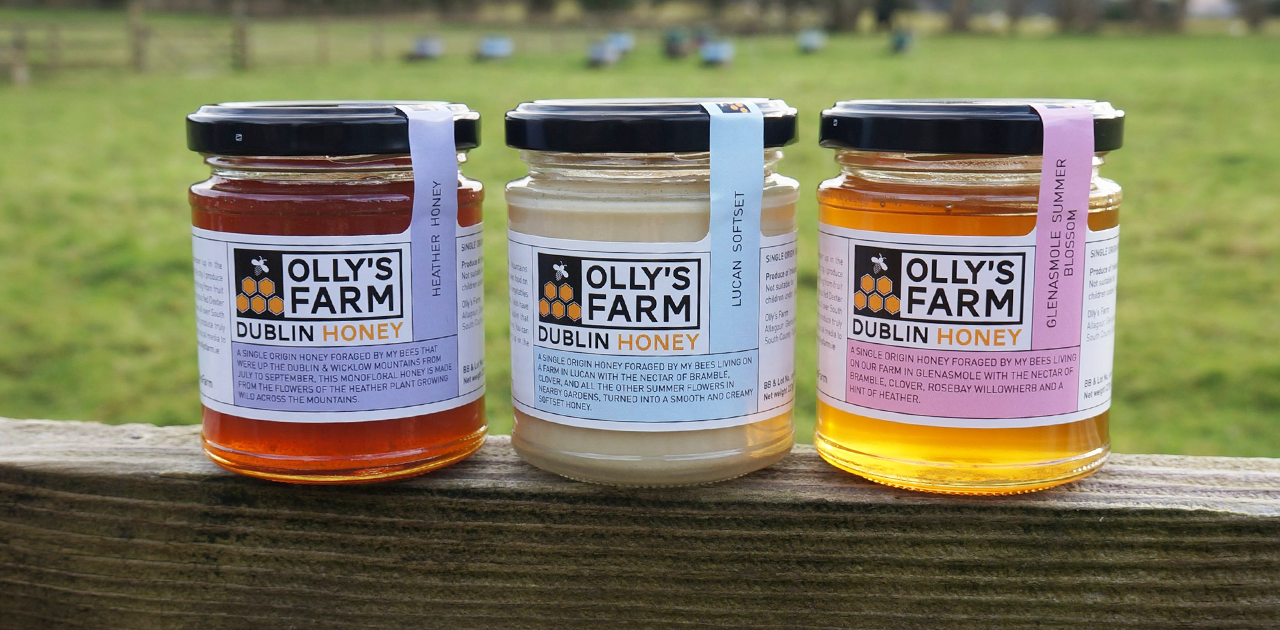 Olly's Farm honey began when Olly Nolan and his partner bought a house with some land in the Dublin Mountains, close to the County Wicklow border, with a dream of becoming self-sufficient.
He hadn't intended to start a honey business. Indeed, when he moved into the smallholding, he had only been beekeeping for about a month and had only planned on keeping a couple of hives for his own use.
Almost eight years later, however, Olly's Farm honey is in great demand. He keeps apiaries around South  County Dublin and North County Wicklow and he makes that local honey available in those areas.
His brand is called Olly's Farm and he has already scooped many awards including 'McKenna Guides Best in Ireland Award in 2019' and  'Great Taste 2 Gold Stars' for his Blossom Honey and Heather Honey in 2018. He also won Gold and Best Food Producer in County Dublin at the 2017 Blas na hEireann awards.
He produces award-winning, 100 per cent raw Irish honey from his hives in various locations around Dublin and County Wicklow. Olly explains that his raw Irish honey is honey that has had minimal processing and is not pasteurised in any way. The honey is extracted from the frames and cold filtered.  The raw honey is never heated to make it pass through fine filters or to turn it into runny honey. As a result, Olly's honey crystalizes naturally and retains the taste and goodness of the scenic locations of the apiaries.
Olly explains that by heating the honey, many of the health benefits associated with consuming local honey can be destroyed.  He is a member of the Bee Farmers Association in the UK (the first member from Ireland). He is also a member of the Federation of Irish Beekeeper Associations (FIBKA) and has public and product liability for his produce. He is also registered with the Department of Agriculture and the Food Safety Authority of Ireland.
Olly's Farm has a range of seasonal honey with products such as 100 per cent raw Irish honey, including heather, blossom & soft-set honey from his many different apiaries around Dublin and County Wicklow. He is also producing bee pollen and may be the only person producing Irish bee pollen.
With hives in Killruddery and Powerscourt, a jar of  Olly's Farm Honey from his County Wicklow hives captures the delicious flavour, floral aroma and natural goodness of the Garden County. Follow Olly's Farm on Facebook, Instagram, and Twitter
Olly's Farm is proud to be a member of Wicklow Naturally.