Wicklow Brewery
Accommodation, Food & Drink Experiences, Food & Drink Producers, Where To Eat
There is nothing quite like a cool pint of beer to lift the spirits and making a name for having perfected, is a family run brewery in the heart of Wicklow.  Located in the quaint tourist village of Redcross, it's definitely worth the detour.
Quality every step of the way – from selecting the best raw ingredients right through to bottling – has insured that The Wicklow Brewery is now firmly on the map as one of Ireland's top micro breweries. Modelling itself on the world famous Braukon brew process in Bavaria – widely regarded as the Mercedes of Brew Houses – the new facility at Redcross was soon producing the same high flavoured, smooth tasting superior beers.  Wicklow Brewery has already secured many International Awards for their portfolio of beers.
And it is not just the many tourists and regulars to the family's popular Brew Pub – Mickey Finn's Pub and Restaurant  – who get to enjoy the fruits of the family's labours, but Wicklow Brewery's range of fine craft beers are now being delivered nationwide.
It was the many tourists visiting Mickey Finn's Pub who were constantly looking for a local beer that planted the seed for brewing their own range.The doors of their micro brewery opened in 2014 at the peak of the craft beer revolution and involved a huge investment in a state-of-the-art brew house.  The authentic rustic Beer Hall doubles up as a Music Venue where there's many a 'Hooley in the Brewery' with Live Music on the stage and Irish Dancing.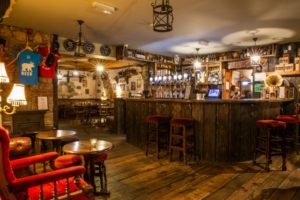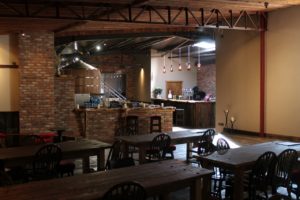 Wicklow Brewery's family of beers consist of Wicklow Helles Lager, St. Kevin's Red Ale, Wicklow Weiss Wheat Beer, HopKnut Pale Ale, GingerKnut (GF) Ginger Beer, Black 16 Stout, WB-40 IPA, and Coola Boola Session IPA along with our rotational seasonal specials.
At Mickey Finn's Brew Pub, the dishes are married to the Wicklow Brewery Beers.  Try the Helles Beer Battered Fish & Chips, GingerKnut BBQ Ribs, Black 16 Beef & Ale Pie or our Signature 'Beeramisu' dessert which has all the wonderful elements of a Tiramisu with added Black 16 stout – Delish!
Brewery Tours run daily at 2pm and 5pm where Tourists and locals alike can enjoy learning the complete brewing process from tasting the malted barley to sampling the end product with a tasting session of our 7 Beers. (€15 for 1 hr tour with tour guide)
Why not spoil yourself and go for the Deluxe Brewery Tour and Food Pairing.  This is inclusive of the guided tour but ends with a Mini 5 Course Food & Beer Tasting Menu.
A quiet pint and a bite to eat in Mickey Finn's Bar is the perfect end to a great outing.
Wicklow Brewery is home to:
Ireland's First Glampotel which is best described as a cross-over between 5 star luxury glamping and a boutique style hotel
River Valley Foot Golf
And coming in 2021 is Electric Go-Karting
* Wicklow Brewery is proud to be a member of Wicklow Naturally