Meet The Maker – Chocolatier Rhoda Kirwan of Rhoda Cocoa
We have some fantastic food producers in County Wicklow and one of those is Rhoda Kirwan of Rhoda Cocoa. But, what does it take to be a one-woman food company in Ireland? Rhoda gives Wicklow Naturally an insight into a week in the life of a chocolatier.
For chocolatier Rhoda Kirwan, a busy week of producing chocolate bars requires her to manage several tasks at once while also looking after her mental and physical well being so she can continue doing the job she loves for a long time to come. Take a peek inside the Rhoda Cocoa kitchen and see all the work that goes into the chocolate bars you bring home.
Her morning of mindfulness
Rhoda's day starts at 6.30am when she gets out of bed and sits down to meditate. She said: "I use an app that gives 10 minute meditations along with an exercise; recently the exercise was to watch where my mind goes when it strays to things I'm concerned about, and become aware of that. This regular meditation practice has improved my ability to focus while I'm working."
On weekday mornings Rhoda has breakfast with her two sons, then she often takes them to school and college. Upon returning, she goes straight into the first task of every work day: giving her kitchen a thorough scrub down.
While the kitchen floors dry, Rhoda takes a 20-30 minute walk outside to get in the right mindset for work. She said: "If I were to start production directly after all that heavy cleaning, my mind would be frantic and I wouldn't be productive. The walk grounds me and clears my head."
Similar to her morning meditation, the walk is an exercise in concentration for Rhoda. She tries to be present in the moment during her walk but sometimes the to-do list creeps in. She says she has to remind herself to stay centered and this helps her maintain focus on the task in front of her after she gets into production.
Once Rhoda is back in her kitchen and suited up in her chef's gear, she uses all the calmness she has cultivated during the morning for what turns into a day-long race against two of a chocolatier's biggest enemies: time and humidity.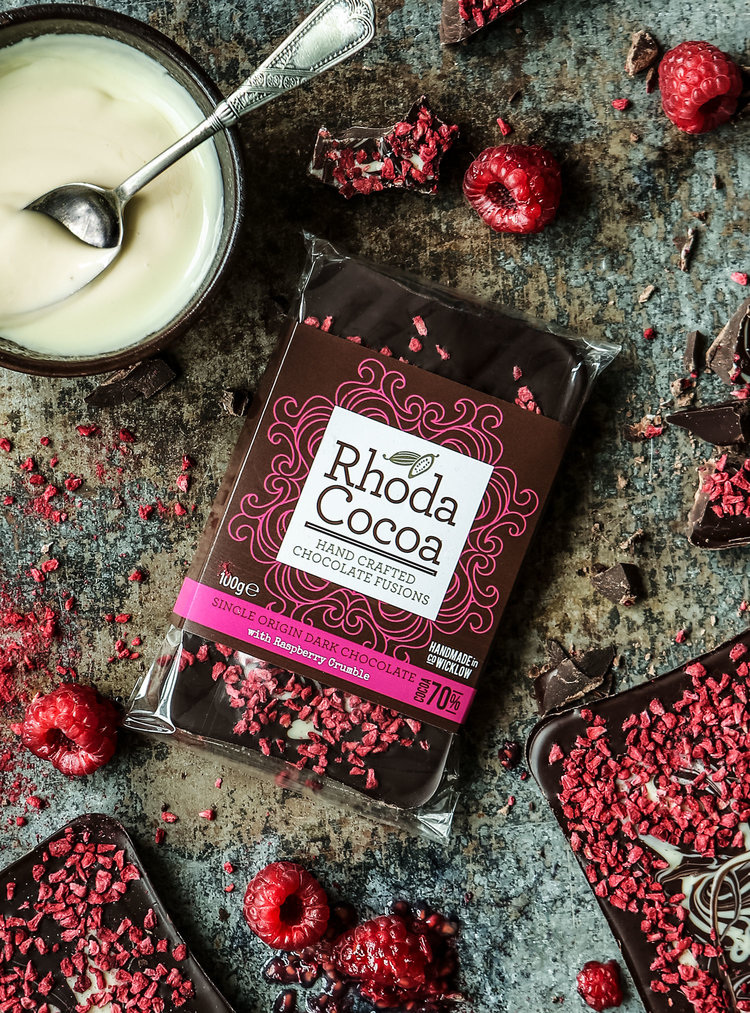 Making the toppings by hand
Rhoda starts the week by making all the toppings for her chocolate bars. A Monday brings hours of chopping ingredients, cooking caramel and honeycomb, roasting nuts, caramelising nuts and prepping spices by toasting then blending.
She said: "On Mondays, I have to run to get everything sealed in airtight containers before anything degrades from exposure. The honeycomb and caramelised nuts have to be stored immediately otherwise they absorb moisture from the air and turn into a gooey mess. '
Each evening during the workweek, Rhoda sets up her melting tank so the chocolate she needs for the next day melts overnight and is ready for her in the morning.
Working against the clock
Tuesdays through Thursdays and sometimes Fridays if she doesn't have a tasting in her schedule, Rhoda dedicates to producing the chocolate bars. She decides which one or two flavours she will make during the day. Otherwise, she would waste time switching between several different flavours as each one requires a certain type of set-up.
But even before Rhoda can start using the melted chocolate, first she must 'temper' it. Tempering is the process that re-establishes the cocoa butter crystals in chocolate. She does this by hand, which requires stirring continuously for up to 10 minutes, and gradually adding 'seeded' or pre-tempered chocolate. Without this step, the chocolate would have a dull surface instead of a lovely sheen and it would break off limply instead of developing a distinctive snap.
Rhoda ladles the tempered chocolate into hard plastic moulds, made from polycarbonate, working on 12 bars at a time. At this point in the process, she must focus and work quickly so the tempered chocolate doesn't change temperature and become streaky, or absorb moisture from the air and become too thick to work with.
'The caramelised pecan bar is one of the biggest challenges because I have to individually place 10 to 12 pecans down the bar while working faster than the pace at which the chocolate is setting.'
The moulds, once successfully filled with the chocolate and required weight of toppings, go into the cooler to set. During unmoulding Rhoda wears reusable gloves so the chocolate doesn't smudge or melt in her hands.
Finally, the bars are packaged one at a time by hand in compostable sleeves and recyclable wrappers, and stickers are placed on the bars that have won awards. The bars are then carefully boxed to await shipment to an online customer or delivery to a retail outlet.
That's only one batch of bars completed – Rhoda's day is far from over. Her production goal for each day is to make five or six batches, or 60-72 bars, but that increases during especially busy periods, such as Christmas, when she'll aim for 100 bars a day.
Fitting everything in
Once work begins, Rhoda stops only to take a coffee break and about 20 minutes for lunch, which is usually a salad or something light. She said: "I'm constantly tasting to make sure the ratio of chocolate to toppings is right and that really suppresses my appetite. I try to snack on fruit to bring some healthy balance into my day."
Rhoda puts the last batch of bars into the cooler around 4pm, then it's two hours of packing away ingredients that are left, cleaning the utensils and scrubbing down all surfaces, updating paperwork and seeing to other admin tasks, preparing orders for the post, and scheduling deliveries, in-store tastings and anything else that must be completed before the weekends.
The end of the day
She added: "At 6pm, I turn into a mother again and it's straight into cooking dinner for my sons and husband. By the time we've finished around 7.15pm, I'm ready to collapse on the couch and unwind in front of the TV."
At the very end of the day, Rhoda usually chats on the phone with her dad, then it's off to bed and a few minutes of listening to an Audible book as she drifts to sleep.
She said: "I love reading books but I found I was only managing one or two pages before falling asleep, and then, because I was so tired, I'd forget what I'd read." Now Rhoda dives into her book pile on weekends and holidays.
Rhoda Cocoa
It's a long week for Rhoda, sometimes stretching into six days when she does a chocolate tasting on a Saturday. 'It's what it takes, and it works for me in that I get to have my dream career without neglecting my well being, or sacrificing the time I spend with my family.'
There's a lot of work that goes into producing a chocolate bar from Rhoda Cocoa, but it's all worth it. Each step is dedicated to handcrafting your experience, making sure that every detail—the look, taste, texture, and aroma—is created to bring you pleasure.