Wicklow Naturally's October Feast is in full swing…
Wicklow Naturally's October Feast is a celebration of Wicklow's food and drinks story, including farming, foraging, brewing, distilling, and much more.
The festival was launched earlier this month (Sunday, October 1st 2023) at Powerscourt Distillery during their Harvest Festival.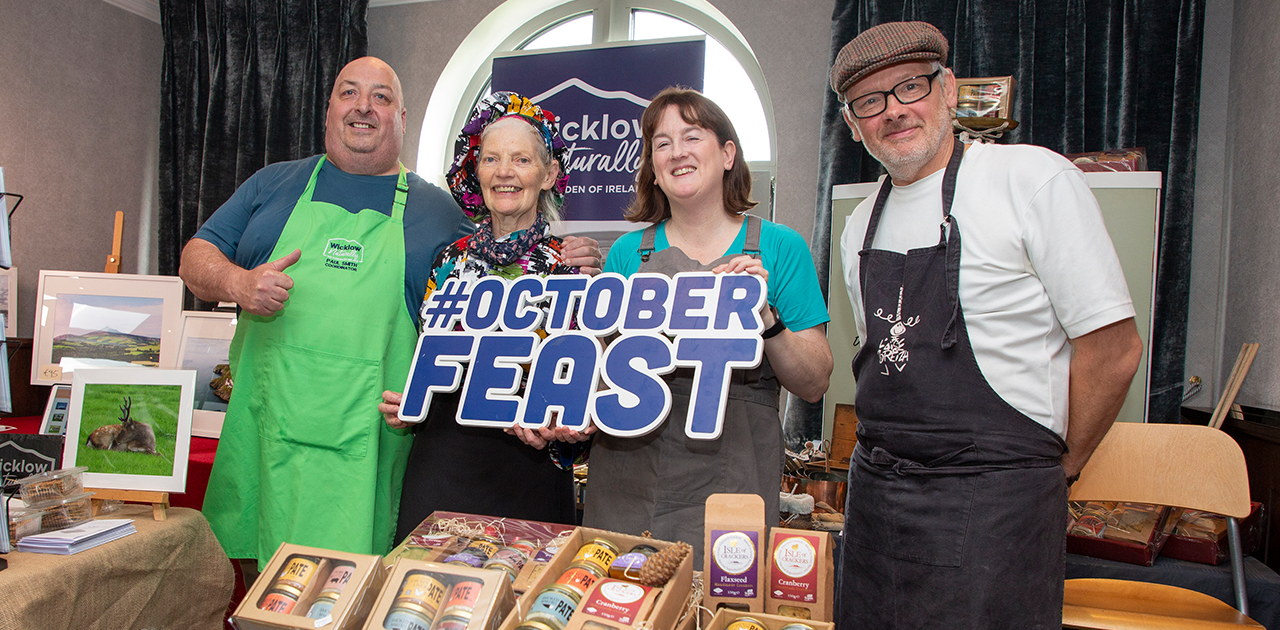 The beautiful county of Wicklow is set to offer visitors an exciting array of events throughout the month of October. From mouth-watering food and drink festivals to thrilling cultural experiences, there is something for everyone to enjoy. Come and explore the diverse range of flavours and activities on offer and make lasting memories in this stunning part of Ireland.
Join the Festival of Food at BrookLodge & Macreddin Village this Saturday, October 14th. The event focuses on sustainable food and drink from the local area and features a producers' market, captivating demonstrations, enlightening foraging workshops, and engaging discussion panels with renowned experts, such as Chef Conor Spacey, Dr JP McMahon from Food on the Edge, Darina Allen of Ballymaloe Cookery School, and Hermione Winters from Slow Food Ireland. There will also be Wicklow drinks masterclasses, live music, and a delicious Wicklow-themed menu available at the hotel. Although the event is free, registration is required in advance, which you can do at https://wicklownaturally.ie/events/the-wicklow-naturally-festival-of-food/. You can even book a bus to and from Dublin City Centre for your convenience at https://book.stripe.com/cN203m6cK8Tj6K45kx.
On Thursday, October 19th and Friday, October 20th, the Hen's Teeth venue in Dublin will showcase the finest food from the Garden of Ireland at Beár Bia (which means Food Bar in Irish). The menu was created by Dylan Mullen, head chef of Hen's Teeth who is a native of Wicklow. It was paired with a drinks list by Oisín Davis, a renowned expert in Irish beers and spirits. To attend this event, you can purchase tickets for €65 each (plus booking fee) which includes drink pairings at https://www.hensteethstore.com/blogs/stories/bear-bia-a-celebration-of-irish-food-and-drink.
Other member events include an interactive kid's Halloween-themed cooking class on Saturday, October 28th with Cool Food School while you can enjoy Halloween in the Woods with Tipi Adventures on Sunday, October 29th providing a perfect conclusion to the month of festivities.
These events provide an exclusive opportunity for our esteemed members to showcase their exceptional produce or experiences to consumers. You can find information about all of these events on the Wicklow Naturally website by visiting https://wicklownaturally.ie/events/.
October Feast is made possible through the generous support of Wicklow County Council, County Wicklow Partnership, the LEADER Programme, Wicklow Local Enterprise Office, and the Department of Agriculture Food and the Marine under the Rural Innovation Development Fund.
Be sure to stay up to date with the latest event news by following Wicklow Naturally on Facebook, Twitter, Instagram or read our latest press releases via our blog.
Beár Bia Wicklow Menu
The menu was created by Dylan Mullen, head chef of Hen's Teeth who is a native of Wicklow. It was paired with a drinks list by Oisín Davis, a renowned expert in Irish beers and spirits and includes:
Grangecon Kitchen Sourdough with a Ballyhubbock ricotta and Olly's honey dip.
Kilruddery House leaves & grilled courgettes in a Wicklow rapeseed oil dressing, with Hollywood Farmhouse goat cheese, Dunne's black pudding and pear.
Ridgeway Wagyu BBQ brisket with Mic's Chili, creamy mash, celeriac slaw & cucumber salsa.
Coconut & Moo Moo Basque cheesecake with a Conroy's raspberry compote.
All courses will be paired with drinks from Wicklow producers including Fercullen Irish Whiskey, Rí Rá Beer, Larkin's Brewing Company and Istil 38 Premium Irish Vodka.
October Feast
October Feast is about telling the story of Wicklow Naturally's members, promoting sustainability messages, letting people know what we do and showcasing the beautiful food and drink products from County Wicklow.
About Wicklow Naturally
Wicklow Naturally is the single promotional voice that tells the story of food and drink produced in County Wicklow. It is a brand created to celebrate the food and drink producers who work hard to deliver high-quality products to consumers through the hospitality sector, retail, food and drink events and essential tourism events.