Wicklow Naturally's October Feast 2023
Sat 01st October 2022
|
Various times
|
Throughout County Wicklow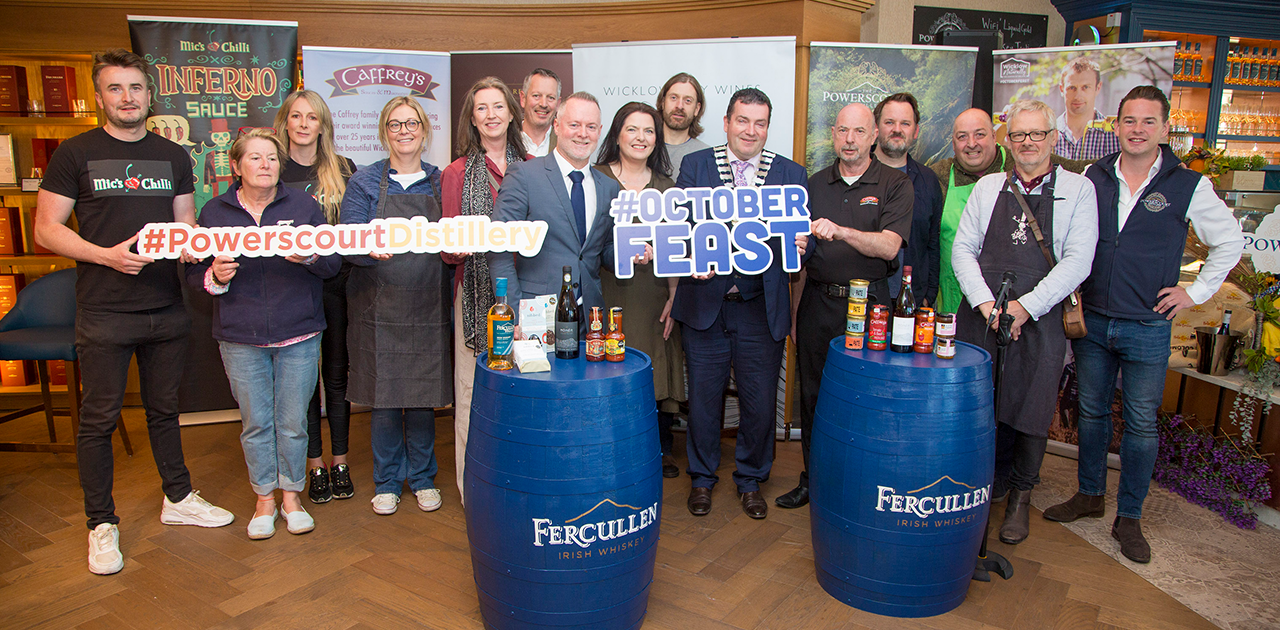 Wicklow Naturally is delighted to announce details of events for this year's October Feast, the annual celebration of food and drink in County Wicklow.
Events include:
Film & Food in Wicklow at The Powerscourt Distillery Harvest Festival – Oct 1st from 12 pm to 5 pm

The first event is at The Powerscourt Distillery Harvest Festival on Sunday, October 1st from 12 pm to 5 pm with lots of live entertainment, including discussion panels, live music, a farmers' market, whiskey masterclasses, beekeeping, and foraging demonstrations and of course lots of delicious food and drink.
The theme for the Harvest Festival this year is Film and Food in Wicklow to celebrate not only the diversity and abundance of filmmaking in Wicklow but also the diversity and abundance of food, from farming to foraging, innovative food production, brewing, winemaking, beekeeping and distilling.
Discussion panels and talks with a film and screen theme will be headlined by our very own Wicklow celebrity chef Catherine Fulvio who will give an insight into her background and career as a TV Chef.
Other talks will include
Food Props for the Film Set from O'Brien from Enniskerry Antiques,
Food on Film from Food Writing Lecturer at TU Dublin Anke Klitzing,
Drink on Screen with Wine Spirit Women Chairperson Sinead Smyth,
Food Documentaries by chef, filmmaker and activist Tadgh Byrne.
There will be live music from the Victory Dolls, Poetry Readings from Patrick Bergin, traditional music, and a film-themed food and drinks menu made with local produce.
More details and bookings for the Powerscourt Distillery event are available at powerscourtdistillery.com.
Wicklow Naturally Festival of Food at BrookLodge, Macreddin – Saturday, October 14th from 12 pm to 5 pm
The second event will be held at BrookLodge,  Macreddin on October 14th from 12 to 5 pm. The Wicklow Naturally Festival of Food will celebrate the food and drink of County Wicklow with a focus on sustainable eating and drinking and will showcase the food and drink producers and providers in Wicklow who offer a delicious bounty with sustainability at the heart of every table.
This event will include discussion panels on
Sustainable Tourism in Wicklow – 12 noon to 12:45 pm

Biodiversity at the Wicklow Table – 1 pm to 1:45 pm

Tradition to Innovation – Sustainable food and drink production in Wicklow

– 2:30 pm to 3:30 pm

'Place on a Plate, food miles' – 4 pm to 4:45 pm

 
Talks and tasting from:
Wicklow Way Wines 2 pm to 2:30 pm 

Whiskey  – 5 pm to 6 pm
Featuring Chefs and Producers from around the Garden County and beyond, We are delighted to welcome renowned Chef Conor Spacey, Dr JP McMahon from Food on the Edge, Darina Allen of Ballymaloe Cookery School, and Hermione Winters from Slow Food Ireland,  to join some of our discussion panels.
We will also have a producer's market, foraging and beekeeping talks and demonstrations, live music, whiskey masterclasses, wine tastings and plenty of delicious food and drink.
Transport: a bus has been organised for the Brooklodge event from Dublin City Centre. Bus bookings and event bookings are available on mixxr.club.
Beár Bia – a celebration of Irish food and drink – Thursday, October 19th and Friday, October 20th
On Thursday, October 19th and Friday, October 20th, the Hen's Teeth venue in Dublin will showcase the finest food from the Garden of Ireland at Beár Bia (which means Food Bar in Irish) providing a perfect conclusion to the month of festivities.
Hen's Teeth head chef Dylan Mullen (and Wicklow native) has created a four-course menu that brings together the incredible produce and flavours from the county. These have been paired with a drinks list by renowned drinks expert and champion of Irish beers and spirits Oisín Davis.
Beár Bia Wicklow Menu
Grangecon Kitchen Sourdough with a Ballyhubbock ricotta and Olly's honey dip.
Kilruddery House leaves & grilled courgettes in a Wicklow rapeseed oil dressing, with Hollywood Farmhouse Goats cheese, Dunne's black pudding and pear.
Ridgeway Wagyu BBQ brisket with Mic's Chili, creamy mash, celeriac slaw & cucumber salsa.
Coconut & Moo Moo basque cheesecake with a Conroy's raspberry compote.
All courses will be paired with drinks from Wicklow producers including Fercullen Irish Whiskey, Rí Rá Beer, Larkin's Brewing Company and istil 38 Premium Irish Vodka.
Beár Bia is a dinner series that celebrates the best of Irish food and drinks county by county in conjunction with Irish Food & Drink Month & Hen's Teeth.
To attend this event, you can purchase tickets for €65 each (plus booking fee) which includes drink pairings at https://www.hensteethstore.com/blogs/stories/bear-bia-a-celebration-of-irish-food-and-drink.

The October Fesast is funded by the Department of Agriculture Food and the Marine under the Rural Innovation Development Fund.