Janet's Country Fayre Ltd
Food & Drink Producers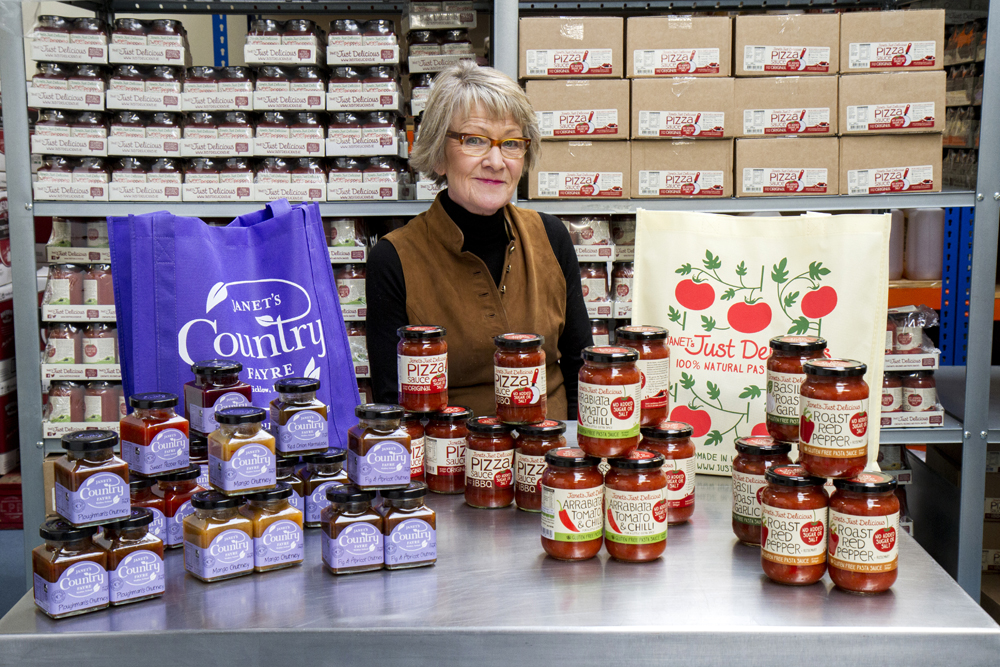 Back in 1995 when Janet Drew began making pickles at home, little did she realise that she was at the start of a food journey which now sees her mauve labelled products in food stores up and down the country.
Janet started out by making pickles at home in 1995 which has since grown into the successful Janet's Country Fayre which was established in 2003.
Winner of five Gold Great Taste Awards, the highly prestigious Irish Guild of Foodwriters Award and Free From Awards, she has proven, time and time again, that her products are of consistently high quality and full of distinctive flavours.
As John  McKenna wrote many years ago in The Bridgestone Irish Food Guide: "Janet's products are possibly the best in the country. This is truly artisan work – distinctive, delicious and inimitable. Just try her work and you will never buy a commercial relish or chutney again".
Her success indicates that consumers up and down the country have been doing just that.
Janet is a well established producer of premium artisan chutneys and relishes. Her company also produces its range of Janet's Just Delicious pasta and pizza sauces containing no added sugar or salt, but, instead, using carrot puree as a natural sweetener.
The business, based at the Bullford Business Campus Kilcoole, produces for both retail and the food service industry. It also produces private label products for fantastic partners such as Sheridans Cheesemongers, the Butler's Pantry, McCambridges of Galway, Café Sol, Freshways, Dunnes Stores and The Traditional Cheese Co. It is proud to be part of Supervalu's Food Academy programme and is a Bord Bia Origin Green approved member since 2016.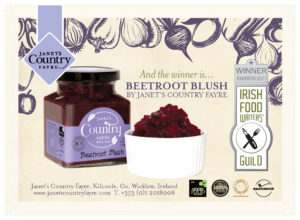 But, it's the woman behind the products which has put Janet's Country Fayre products on shelves nationwide. Janet is a woman who is full of passion, energy and enthusiasm for everything she does. She has spent years building up key relationships with food buyers, retailers and very importantly, other producers.
She has gone great lengths to pay attention to food intolerance and her professional kitchen at Kilcoole, County Wicklow has nut and non-nut based products. These are  entirely separated so people suffering with allergies can rest assured that all due care possible has been taken.
All of her products taste great. Consumers enjoy her delicious Basil Pesto for pasta dishes or salads, her Scrummy Plum Chutney is perfect for delicious cheese boards, her Cranberry Sauce perfects the Christmas table while her Cucumber Pickle is perfect for those seasonal occasions. The Sweet Pepper Relish has picked up many awards over the last years. It was awarded Gold in the Great Taste Awards. It is one of the most popular relishes on the market and has been described as 'irresistible' by food critics.
Also vital to Janet's success is her careful choice of raw produce. She has forged great relationships with vegetable, seed, herb, nut and spice suppliers, guaranteeing that each and every piece of produce is vetted by herself and comes with local, fresh and quality credentials.
The full range from Janet's Country Fayre is listed HERE. To find out where you can buy these products nationwide visit HERE
Janet's Country Fayre is proud to be a member of Wicklow Naturally