Wicklow Naturally network given worldwide exposure on St. Patrick's Festival TV 2021
Wicklow Naturally
Thu 04th March 2021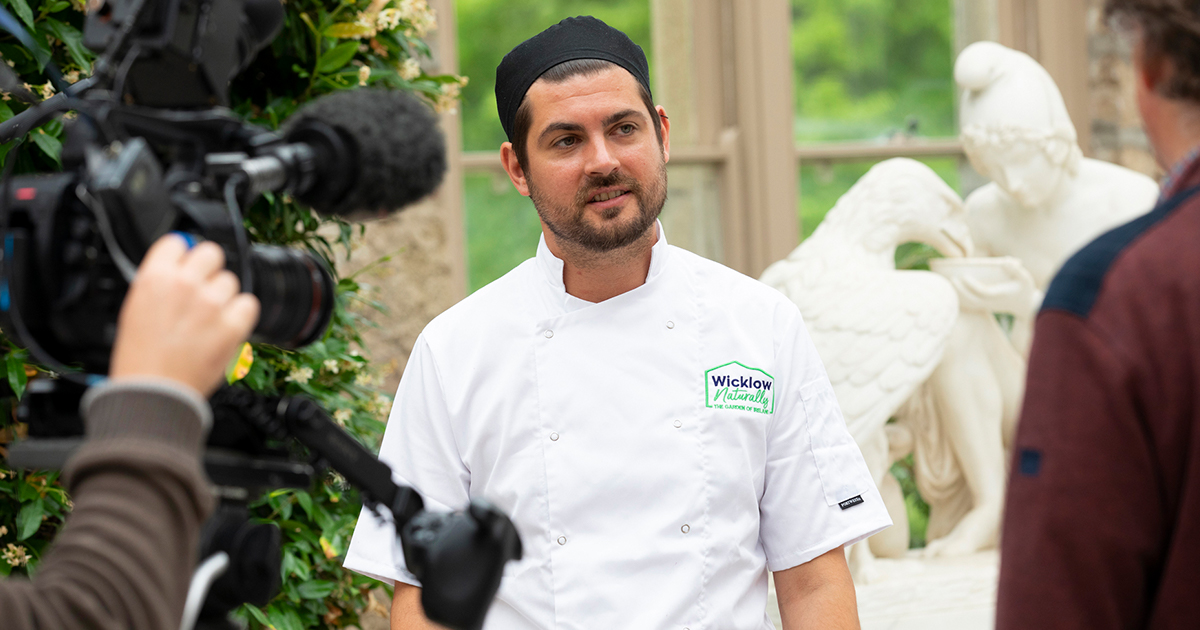 A five-part mini-series for St. Patrick's Festival TV centres around the Irish diet, with a focus on culinary history and, to a lesser extent, food production with chef Tadgh Byrne a member of Wicklow Naturally. Tadgh will visit some iconic historic locations around Ireland including Wicklow.
Along the way, the series explores how our past has affected the way we eat today, while also shining a light on a range of people doing some very interesting and innovative things around food in 2021.
Produced by The Reelists, the series sees the Wicklow based chef visit some iconic historic locations around Ireland sampling plenty of delicious food, while checking in with a range of guests including historians, food scientists, foragers, chefs and farmers.
Watch 'A History of Irish Food with Tadgh Byrne' episodes 1 to 5 below: 
Episode 1: Prehistoric (7000BC – 600 AD): Wild Food
Episode 2: Christian Ireland (600-1500): Dairy Produce
Episode 3: British Rule (1500-1922): Potatoes and Meat
Episode 4: Independent Ireland (1922 – 2008): From Bacon and Cabbage to Paninis
Episode 5. The Present and the Future: Modern Irish Cuisine
 About the St. Patrick's Festival 2021
The national St. Patrick's Day Festival 2021 moved online bringing all the colour, culture, and pageantry into homes around the world over six days and nights. The theme of this year's Festival is Dúisigh Éire! Awaken Ireland! The Festival runs from March 12 – 17 and here's how you can watch all our 100+ events, no matter where you are in the world.
Streaming live globally here at our website through our TV channel — St. Patrick's Festival TV (SPF TV) and you can replay all programmes on their event page after they have broadcast, up to March 21. You can watch the SPF TV live stream on www.rte.ie/culture. We are also broadcasting live to 1.1 million homes in Ireland on Oireachtas TV, which can be found on all TV platform providers.
Minister for Tourism, Culture, Arts, Gaeltacht, Sport and Media Catherine Martin said the reimagined programme "will allow us all come together virtually to celebrate our national festival safely, but also provide us with an opportunity to reflect on what has been a very difficult year".
The festival line-up included:
The comedians' Foil, Arms & Hog and Michael Fry
The poet Pat Ingoldsby
Writers and broadcasters such as Marian Richardson, Brendan Balfe and Manchán Magan
The chef Tadgh Byrne, with a series on the history of Irish food
Entertainers such as Fanzini Brothers, Tumble Circus and the storyteller Eddie Lenihan.
Wellness and mindfulness events feature Bressie and Michael Ryan, with guests including the Happy Pear.
Music includes New Jackson, Pillow Queens, Colm Mac Con Iomaire, Mary Coughlan, Myles O'Reilly, Gemma Dunleavy, Sorca McGrath, Gareth Quinn Redmond, Matthew Nolan, Lisa Hannigan, Adrian Crowley, DC Fontaines' Grian Chatten, Matthew Campbell of The Shamrock Tenors, soprano Mary McCabe, The Breath, Moxie, Kíla and Brían and Diarmuid Mac Gloinn of Ye Vagabonds.
Also taking part are traditional performers and storytellers including Donnacha Dwyer, Sin A Deir Sí, Ceiliúradh ó Chorca Dhuibhne, Shandrum Céilí Band, Caoimhe O Flaherty, Ronan O'Flagherty, Naoise Mac Cathmhaoil, Nuala Hayes, Jerry O'Reilly, Dermot Bolger, Annemarie Ní Churreáin and Nell Ní Chrónín.
St Patrick's Festival took place online from March 12–17th. You can read more here.