Imbolc: Spring celebrations at Wicklow Naturally
The season of Imbolc is one of four main festivals in the old Irish Calendar, and we at Wicklow Naturally believe it is a festival worth reviving and celebrating. The beginning of Imbolc is the first day of February, which coincides with St Brigid's day – another noteworthy day in the Irish calendar!
It is believed that the word Imbolc literally means 'in belly' – (in the ewes belly)– referring to lactating ewes and spring lambing. So, it certainly is an ideal time to celebrate the coming year and the renewal and regrowth that takes place in our farming and food business community.  St. Brigid and the Goddess Brigid are known for her associations with farming, fertility, dairying, generous hospitality, love of nature and even beermaking so her feast day gives us even more reason to celebrate the food, drink and hospitality businesses in Wicklow.
Although Covid 19 restrictions limited the ability to host large events this year, many small events were hosted by our members to mark the festival across the County. Plans are underway at Wicklow Naturally to have several member-hosted events next year, to coincide with St. Brigid's day becoming a Bank Holiday in 2023.
Many members marked the first of February with beautiful springtime images on their social media- from snowdrops to Brigid's Crosses, baby calves to tiny piglets and of course newborn lambs! Wicklow Naturally hosted an Oíche Fhéile Bríde webinar to which all members were invited, to celebrate our network. In honour of St. Brigid, (known to be a woman ahead of her time-) it particularly celebrated the role of women in our network. There was a wonderful turnout at the webinar as everyone celebrated the coming of spring and the hope of a prosperous year to come. Members shared anecdotes about St. Brigid and Lorraine from Daisy Cottage Farm talked about traditional Feast-day recipes and traditions. It was wholeheartedly agreed that this ancient festival is worth celebrating with in-person events in February 2023.
On St. Brigid's Day itself, Nick's Coffee held St. Brigid's Cross making workshops with customers joining in the fun over a cup of coffee and remembering old cross-making skills from their schooldays.
Later in the month of February, the Powerscourt Distillery held a press event to celebrate Imbolc and St. Brigid's Day. The event began with a cocktail reception and a cocktail called the Brigid's Cloak made from their Fercullen Irish Whiskey and was served with the Wicklow Signature Dish The Wicklow Stampy, prepared by member Chef Tadgh Byrne. Broadcaster and Wicklow resident Suzanne Campbell welcomed guests onto the two discussion panels.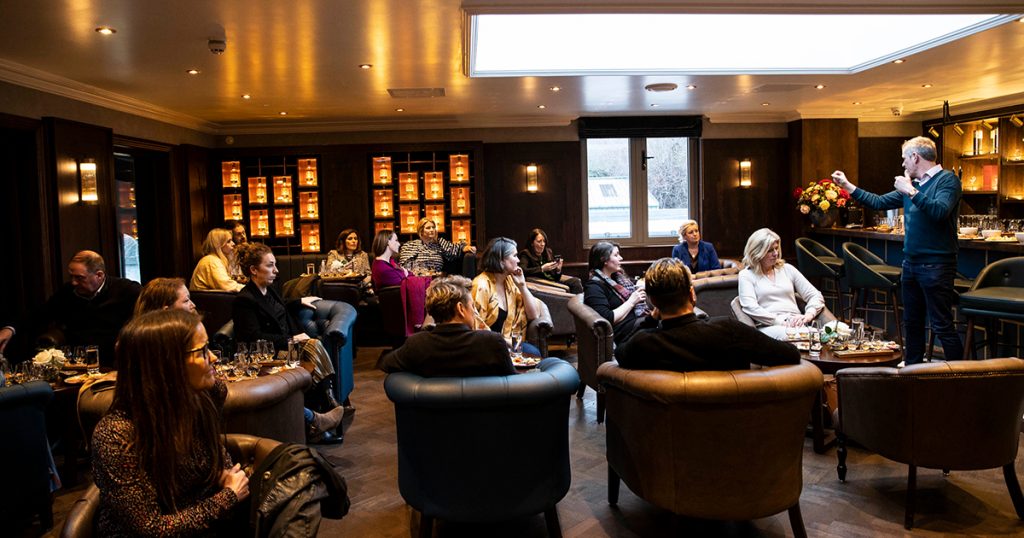 The first panel discussed the themes of Brigid and Imbolc and the relevance in today's food and drink culture in Ireland, and the second panel discussed the Taste of Place and the idea of Irish 'Terroir.' The two panels featured many Wicklow Naturally members including Ballyhubbock Farm, Wicklow Way Wines, Olly's Farm, and Wicklow Wild Foods.
The event continued with a tour of the Powerscourt Distillery and a guided tasting with the Powerscourt Distillery's newly appointed Head of Whiskey, Wicklow man, John Cashman. The whiskey tasting included a guided food pairing by Santina Kennedy who is a coordinator for Wicklow Naturally, and Food and Beverage Specialist at the distillery. Santina included many Wicklow Naturally members foods in the pairing including Wicklow Farmhouse Cheese, Coolattin Cheddar, Olly's Farm Honey as well as bespoke Fercullen chocolate truffles made by the Chocolate Garden of Ireland. The mocktail was made using Kilmullen Farm Apple Juice and Daisy Cottage Farm Elderflower Cordial and John Cashman discussed the upcoming whiskey release in collaboration with Wicklow Brewery. The day of celebration was an example of how members can come together and network and collaborate to highlight their own food and drinks businesses and the Wicklow Naturally network.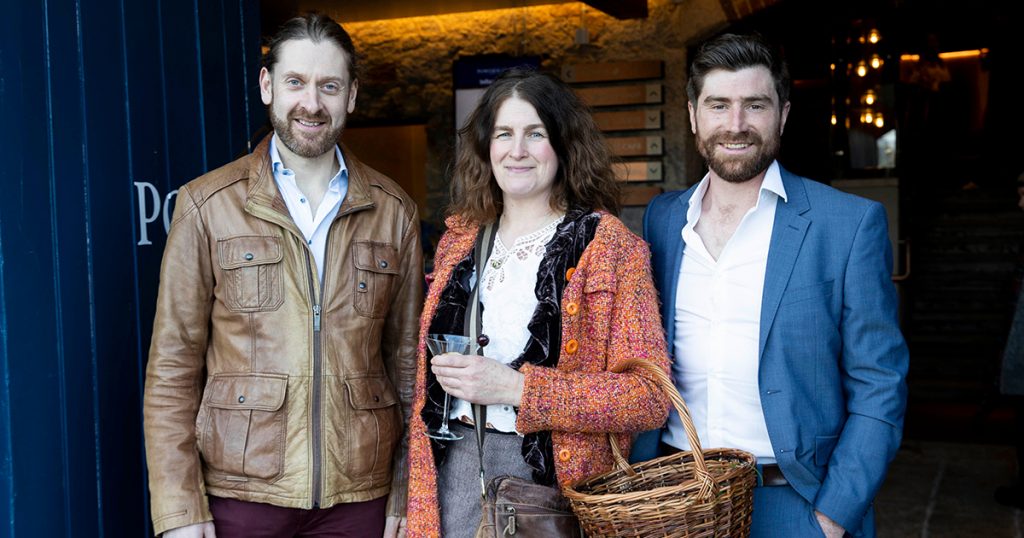 Wicklow Naturally looks forward to many more Imbolc and Brigid's Day events in February 2023.
Photos by Andres Poveda and courtesy of Powerscourt Distillery.