Wicklow Stampy not only reflects our past but also celebrates the vibrancy of ingredients available to us today…
Wicklow Naturally
Mon 16th August 2021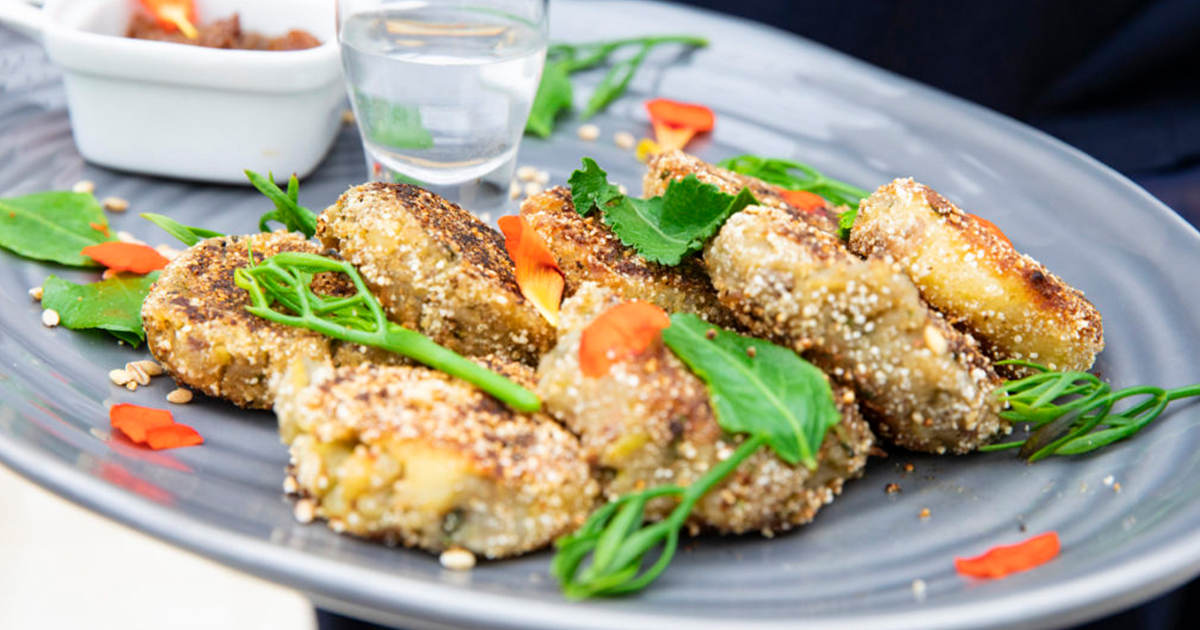 The Wicklow Signature Dishes offer visitors and residents alike an opportunity to taste not just the fantastic flavours of the Garden County, but also a taste of Wicklow Heritage. The Wicklow Stampy is a signature dish that has a fascinating story and we are proud to share it during Heritage Week 2021.
Background 
Pre-famine, everywhere in County Wicklow, potatoes constituted the food of the poor. In many cases, potatoes were their only food as evidenced by the Poor Law Commission of 1835-36. Reports published, from 29 respondents in County Wicklow, indicated that labourers ate little other than potatoes for much of the year. Although wheat was extensively grown at this time on the low-lying lands along the coast, it was not consumed by the poor, and, it was only among the mining communities of Avoca, that bread was reported as being included in the diet of the poor.
The first reports of the potato blight in Wicklow date from the end of October 1845. The initial reactions tended to be complacent, and people were confident that even damaged potatoes could be used for food in the form of potato cakes/bread/pies. The belief, that even potatoes damaged by the blight could be used for food, was widely held and wildly optimistic.
Around the time of the Great Famine (1845–1852), the apple potato was a unique potato variety. As an alternative to throwing soft potatoes away, people would have used soft potatoes to make fritters, bread or cakes. These became popular.
As far back as 1608 and the Woodenbridge Hotel and Lodge in County Wicklow was licensed as a Coaching Inn. It would have been known as the first house of Irish hospitality and was a common staging location to refresh horses for merchants engaged in commerce between Dublin and the South-East. While the landed gentry feasted inside on dishes incorporating ingredients from the land and the sea, all the while, the coach hands would have been left outside with the horses and they would have eaten peasant-style fritters made with apple potato, sweet orchard apples, buttermilk, herbs and honey.
The coach hands were given a handheld small pastie/pie made from apples from the nearby orchard, and potatoes, to warm their hands and nourish their stomachs. There were also oats (like porridge) in the middle to fill them up.  The pie was made using the apple potato.
Our relationship with potatoes, barley and apples, from Famine times, through to now, is extraordinary. Potatoes formed the basis of traditional recipes such as Boxty Bread, Stampy and Colcannon. The Stampy would have been made on a bread tree, a sloping board put before a fire to hold the bread and was usually only made for Christmas or a November night.
Fast forward to 2021 and the very ingredients, which fed both peasants and landed gentry all those years ago, can today be combined to make a delicious Wicklow dish that again incorporates the tastes of our land and our shores.
Potatoes are widely grown in Wicklow, there is currently 5,000 hectares of Barley growing and we also get apples from our orchards. We also have our delicious wild ingredients which appear on our shores such as Sea Spinach and Rock Samphire.
County Wicklow, which has earned its reputation as The Garden of Ireland, has not only rich lands for crops but also producers who are inspired by this landscape. So, the Wicklow Naturally Signature Dish working group wanted to create a dish that not only reflects our past but also celebrates the vibrancy of ingredients available to us today.
Introducing The Wicklow Stampy
The Wicklow Stampy is a potato and apple cake, crusted with barley enhanced with sea spinach and rock samphire cooked with Wicklow Rapeseed Oil. The saltiness of these ingredients balances perfectly with the sweetness of the apples. The barley crust is crisped-up in local, heart-healthy rapeseed oil gives a crunchy crust that gives way to a soft flavourful interior. To perfect your plate, we recommend serving the Wicklow Stampy with relish or chutney such as the fantastic range from Janet's Country Fayre or The Birds & The Teas or even a dollop of local yoghurt.
The Wicklow Stampy not only reflects our past but also celebrates the vibrancy of ingredients available to us today. It brings together the flavours of County Wicklow's land and our shore. It is a vegan dish that can either be served as a starter, side, or even breakfast dish (with, or without, poached eggs).
Paired with Glendalough Poitín
Before there was whiskey, there was Poitín – the ancient ancestor of all distilled drinks. It was first made by monks in monasteries such as Wicklow's 'Glendalough' monastic settlement, which dates back to the 6th century. Poitín was outlawed in 1661 but the Glendalough Poitin has brought it back and we couldn't think of a better tipple to sip neat with The Wicklow Stampy than this barley-based spirit.
Make Wicklow Stampy (Serves 2)
This dish can be vegan or vegetarian depending on whether you fry it in oil or butter and what dipping sauce (wild garlic or wild sorrel pesto) you serve it with. Relish is a good vegan option but you can also use local yoghurt or mayonnaise. Go easy on the salt when seasoning, as the beet and samphire are quite salty.
Ingredients:
1 Medium Sized Potato (rooster or similar)
1/2 Granny Smith Apple
50g of Sea Beet (aka Sea Spinach – or you can substitute this with regular spinach)
50g of Rock Samphire (or you can substitute with asparagus or marsh samphire)
100g Pearl Barley (uncooked) – Finely Milled in a Blender or Spice Grinder
Salt and Pepper
Method:
Boil the potato for 10 mins until nearly cooked but still firm. Keep the boiling water and blanch the sea beet and samphire for 10 seconds before dropping in an ice bath. Allow the potato to cool.
Meanwhile, grate the apple and strain off excess liquid with a strainer or squeeze through a jay-cloth. Grate the potato when it is cold enough to handle, including the skin.
Combine grated apple and potato in a bowl. Chop the greens and add those to the bowl also. Add seasoning and mix well.
Form into small cakes a little bit smaller than a golf ball. Press down into a disk shape. Toss these in the course barley flour to coat.
Fry in local rapeseed oil (add a knob of butter to the pan if you wish)for 4-5 mins each side, until nicely browned and crisp on the outside. If you find they are soft and soggy – increase the heat of the pan.
Leave to rest on kitchen paper for a few seconds. Serve 2-3 cakes per person with a dipping sauce of your choice
Signature Dishes for County Wicklow
Our team of accomplished chefs and hospitality experts have created a number of mouth-watering Wicklow Signature Dishes. The dishes consist of a delicious starter called The Wicklow Stampy, The Huntsman's Stew as the main course, The Glen of Imaal Crumble dessert and The Aislinn Cheeseboard. Each dish is paired with an accompanying beverage from a local producer.
The dishes are inspired by various elements of nature that Wicklow is so famous for… from the coastline, rich pastures, hills, valleys, rivers, lakes, hedgerows, stately homes and their gardens, wild and farmed animals to forestry – and are guided by the Wicklow food assets.
The dishes bring in elements of the Garden of Ireland's history but of course have some modern twists and techniques.
Wicklow Signature Dishes featured on RTÉ's Nationwide magazine/lifestyle programme late last year.  It is hoped that these dishes and pairings will be introduced by the hospitality sector across the county.
Why not try making these restaurant-quality dishes for yourself, your family or visitors at home. Check out the easy-to-follow recipes here.
Heritage Week
National Heritage Week, an initiative by the Heritage Council, celebrates all things heritage. It brings together communities, families, organisations, cultural institutions, academics and enthusiasts, to build awareness about the value of heritage and support its conservation.
National Heritage Week 2021 takes place from Saturday, August 14 to Sunday, August 22nd 2021.
Read more here.