A Taste of Ireland: Ballyknocken Cookery School a St. Patrick's Day Special with Wicklow Naturally's member Catherine Fulvio will be broadcast across America
Wiklow Naturally
Fri 05th March 2021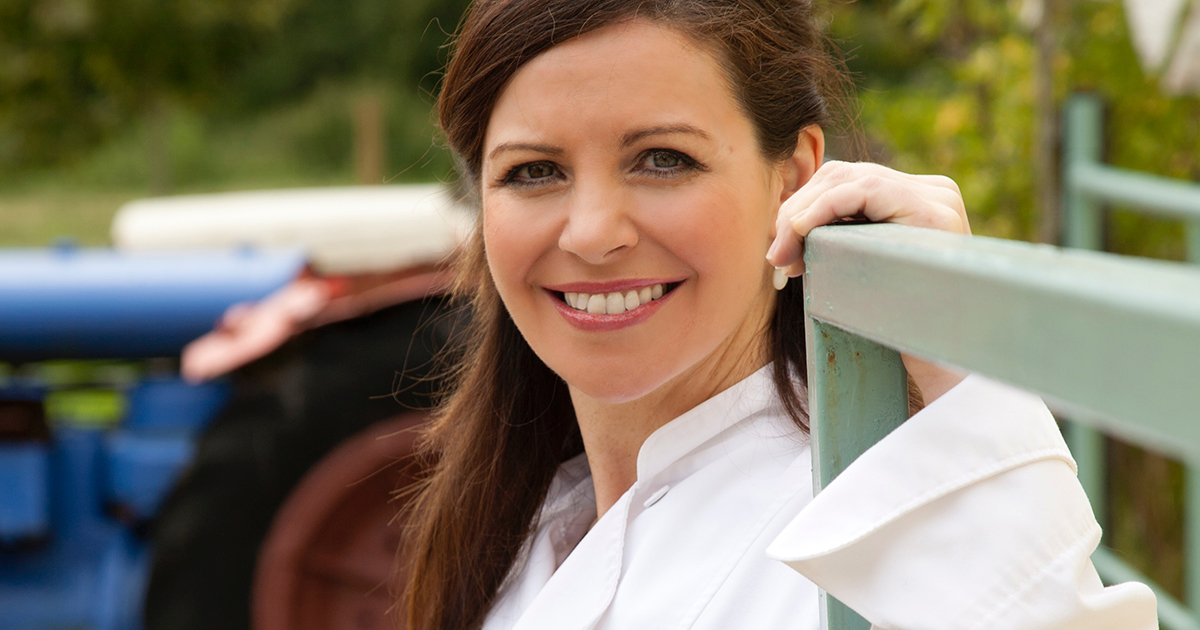 A Taste of Ireland: Ballyknocken Cookery School a St. Patrick's Day Special with Wicklow Naturally's member Catherine Fulvio will be broadcast across America.
About Catherine Fulvio
Growing up on a farm in Ireland, Catherine can really appreciate the source of our daily ingredients and actively thinks about the way our food is produced. Now third generation at Ballyknocken House, Catherine's Irish blood and Italian heart is a winning combination.
With her effervescent charm and personality, Catherine Fulvio is an ardent supporter of fresh local produce and one of Ireland's top culinary stars. Born and raised at Ballyknocken, a working farm, Catherine has an inherent knowledge and understanding of food and cherishes the land and its produce. An expert cook, her recipes reflect seasonal, easily sourced, quality ingredients and she is known for her no-fuss approach to food with a twist.
Career
Nominated for a Day Time Emmy for her role as Outstanding Culinary Host on her US TV series "A Taste of Ireland" on Recipe.TV, Catherine is also the founder of Ballyknocken House & Cookery School, is an award-winning author of six cookbooks and has many TV series under her belt. As well as hosting regular cookery classes, both public and private in the cookery school, Catherine tours the island of Ireland as a keynote speaker and making appearances at festivals and events, hosting fund-raising Cookery Demonstrations for sports organisations, schools and other public and private events drawing crowds of up to 600.
Back home at Ballyknocken, Catherine and her team of expert tutors' welcome international guests as well as playing host to corporate and team building events in the Cookery School on a daily basis. Through her work, she has firmly established herself as a familiar face on TV screens both at home and abroad and she plays an important role in educating the next generation on food and food production-related issues.
She is a regular on national radio and TV in Ireland and she is also the food writer for one of Ireland top-selling weekly magazines and the RTE Guide.
She has just completed filming on the fifth series of Catherine Fulvio's Tastes Like Home a popular cooking and travel show that brings Catherine helping to connect families with their loved ones living all around the world and is now shown on screens around the world. She also co-hosts the popular history of food series, Lords & Ladles alongside Derry Clarke and Paul Flynn, which has been shown on Netflix. She has worked on two series of A Taste of Success with RTE and has a further three TV series under her belt: Catherine's Italian Kitchen, Catherine's Roman Holiday and Catherine' Family Kitchen which have aired in over a dozen countries and on Amazon Prime. She has had live TV appearances in the UK on the ever-popular, BBC Saturday Kitchen and in America on NBC's Today Show where she has appeared numerous times on the top morning show. In addition, she co-hosted the popular BBC Best Christmas Food Ever with Chef Paul Ainsworth.
An innovative entrepreneur, Catherine continues to expand her career and is now also engaging virtually with students, corporates and groups alike at home and abroad.
Food is the basis of Catherine's very being, not only is it what she does for a living, it is how she lives – through her work, her cookery school and her family & home in Ballyknocken House & Cookery School just outside Ashford in Co Wicklow.