Wicklow Naturally's Wicklow Signature Dishes
Wicklow Naturally
Thu 01st October 2020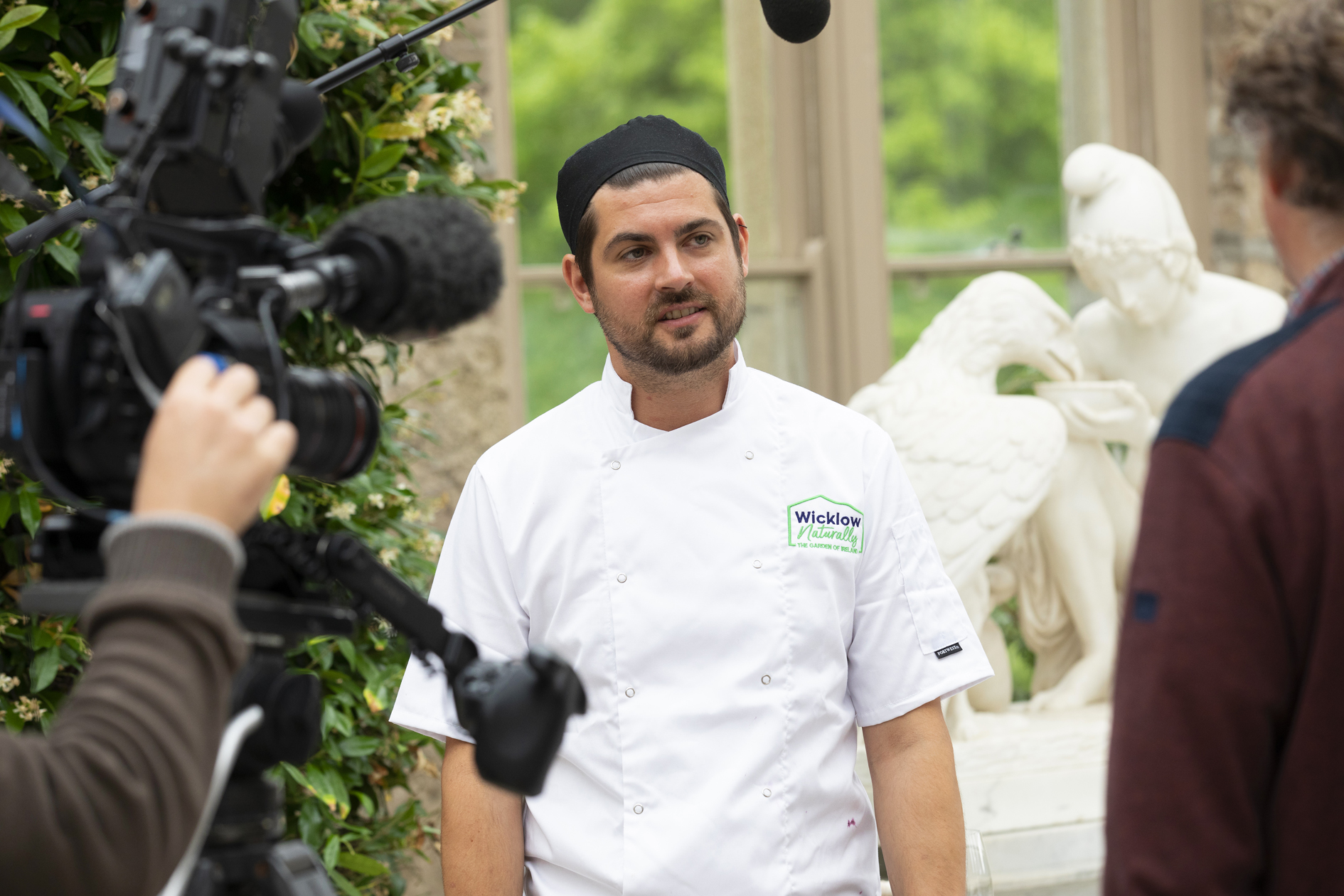 County Wicklow, the Garden of Ireland, is home to some of the country's finest food and drink producers. From growing and foraging to brewing, wine making and distilling, Wicklow is proudly unearthing its food and drink story with 'Wicklow Naturally'.
Wicklow Naturally stands for sustainability, best practice, authenticity, the highest quality of food and drink products and we have great pride in County Wicklow and what's produced here.
Our team of chefs and hospitality experts have been working very hard over the past few months to establish a number of Wicklow Signature Dishes for county Wicklow – a starter, main course, dessert and a cheese board – dishes which are to be featured on RTE Nationwide during Wicklow Naturally's October Feast.
Each of these Wicklow Signature Dishes have been paired with an accompanying beverage from a local producer. It is hoped that these dishes and their drink pairings will be adopted by restaurants, cafes, hotels and other foodservice establishments across the county, as well as local home cooks keen to offer a taste of County Wicklow to visitors.
County Wicklow is known as the 'Garden of Ireland' due to its abundance of natural beauty. The region has a long history of food cultivation and production, the passion which has been handed down from generation to generation. The Wicklow Signature Dishes are inspired by various elements of nature that Wicklow is so famous for – the coastline, rich pastures, hills, valleys, rivers, lakes, hedgerows, stately homes and their gardens, wild and farmed animals, forestry and trees – but are guided by the Wicklow food assets. The dishes bring in elements of the Garden of Ireland's history but of course have some modern twists and techniques.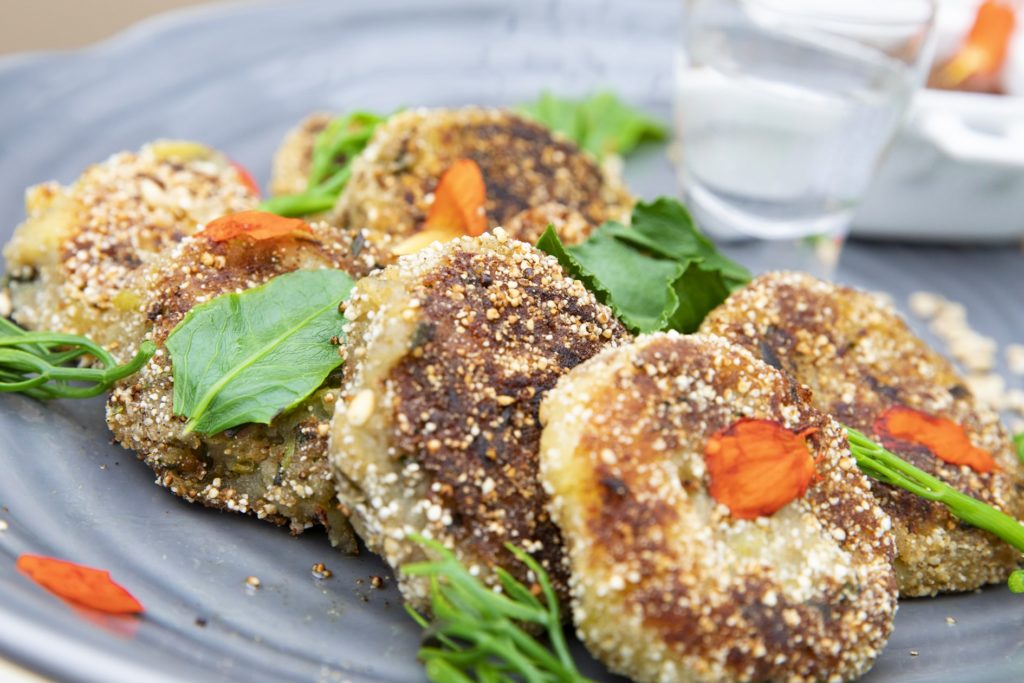 SIGNATURE STARTER DISH: THE WICKLOW STAMPY PAIRED WITH GLENDALOUGH POITÍN.
Wicklow Stampy: Potato and Apple Cakes Enhanced with Sea Spinach and Rock Samphire, Encrusted with Barley and fried in Local Rapeseed Oil.
Wicklow has a long history of farming these potatoes, barley and apples. This is still true today with 5,000 hectares of barley alone being grown in the county. Potatoes formed the basis of traditional Irish recipes such as Boxty Bread, Colcannonor Stampy which often used potatoes old or 'soft' potatoes. Stampy would have been made on a breadtree, a sloping board put before a fire to hold the bread and was usually only made for Christmas or a November night.
The Wicklow Stampy is a modern take on an old dish that was served at Ireland's oldest hospitality venue, the Wooden Bridge Hotel, founded in 1608. This modern take incorporates some delicious wild ingredients that appear on our shorelines, such as sea spinach and rock samphire. The saltiness of these ingredients balances perfectly with the sweetness of the apples. The barley crust is crisped-up in local, heart-healthy rapeseed oil gives a crunchy crust that gives way to a soft flavourful interior. To perfect your plate, we recommend serving the Wicklow Stampy with a relish or chutney such as the fantastic range from Janet's Country Fayre or The Birds & The Teas or even a dollop of local yoghurt.
The Wicklow Stampy not only reflects our past but also celebrates the vibrancy of ingredients available to us today. It brings together the flavours of County Wicklow's land and our shore. It is a vegan dish which can either be served as a starter, side, or even breakfast dish (with, or without, poached eggs).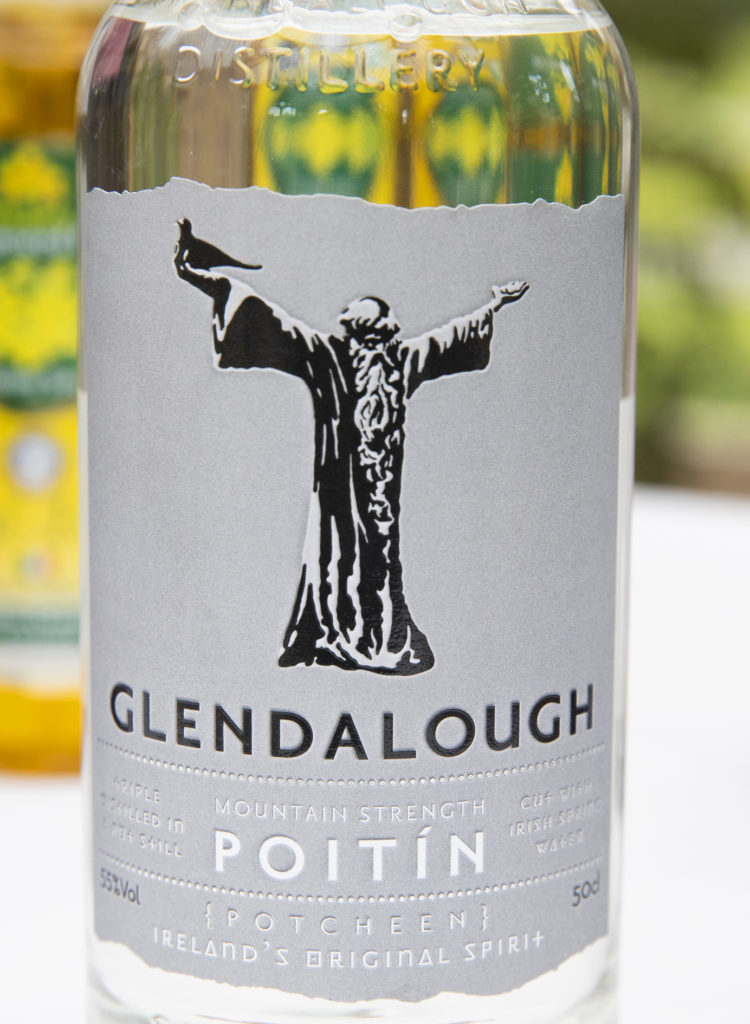 Paired with Glendalough Poitín:
 Before there was whiskey, there was Poitín – the ancient ancestor of all distilled drinks. It was first made by monks in monasteries such as Wicklow's 'Glendalough' monastic settlement, which dates back to the 6th century. Poitín was outlawed in 1661 but the Glendalough Distillery have brought it back and we couldn't think of a better tipple to sip neat with The Wicklow Stampy than this barley-based spirit.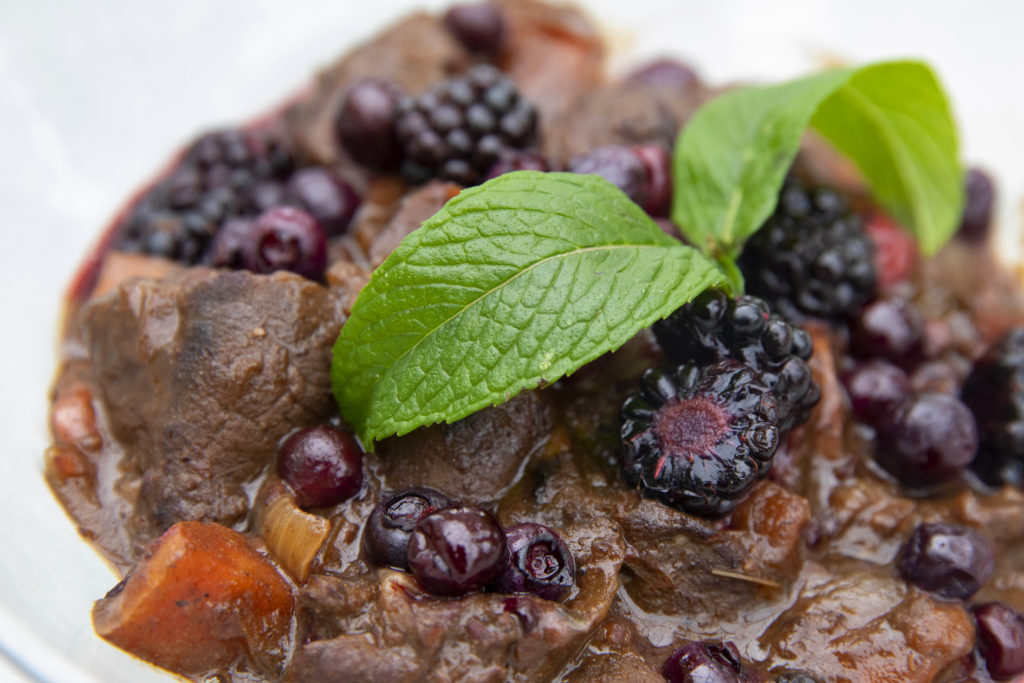 SIGNATURE MAIN DISH: THE HUNTMAN'S STEW PAIRED WITH MÓINÉIR BLACKBERRY WINE
The Huntman's Stew: A Slow-cooked Stew Made from Stout-Marinated Venison, Scented with Wild Blackberries, Elderberries and Fraughán Berries and Thickened with Oatmeal.
We wanted to create a Main Course dish which represents the wildness of County Wicklow, celebrates our famous Wicklow Mountains and our long-standing association with game while taking in the flavours of wild berries growing in our hedgerows.
When people think of Wicklow they think of the wild deer and rightly so -the rich land and forest provide the perfect nourishment and shelter for wild game including pheasants, woodpigeon and deer to flourish. Japanese Sika deer were introduced to the Powerscourt Estate in County Wicklow in 1859. They soon escaped and started to breed with the closely related Red deer. These 'hybrid' deer are easily spotted on the open hills of Wicklow.
The Huntsman's Stew is a slow-cooked venison stew designed to use all that is Wicklow within the combination of the dish. It has layers of connecting ingredients such as foraged seasonal wild berries (blackberries, elderberry and Fraugháns are recommended) and the 121219 stout from the Wicklow Brewery which is aged in Whiskey Barrels from the local Powerscourt Distillery. Wicklow Wolf Oatmeal Stout can be used alternatively. Vension can be sourced from Wild Irish Game – Ireland's oldest game processing company and established in Glenmalure in 1997. The stew is finished with oatmeal which is a traditional way of thickening stews in Ireland.
The Huntsman's Stew can also be served as a pie if desired. We recommend serving it with an accompaniment of local vegetables. Again, this is a truly authentic Wicklow dish which chefs in our hotels, restaurants and pubs across the county, can be proud to serve to their guests.
Paired with Móinéir Blackberry Wine
We have paired rich flavours of The Huntsman's Stew with a bold Blackberry Wine from Móinéir – Wicklow Way Wines – which is made in Newtownmountkennedy.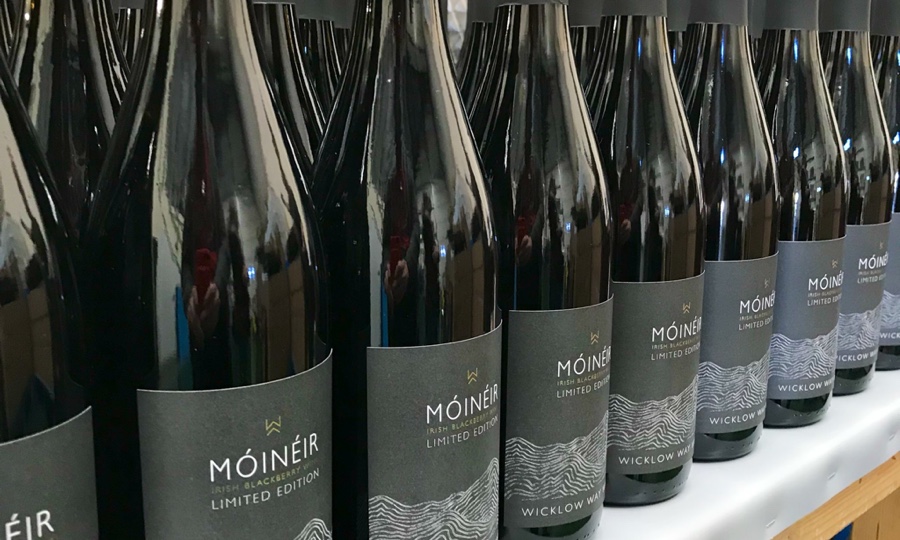 SIGNATURE DESSERT: THE GLEN OF IMAAL CRUMBLE PAIRED WITH ELDERFLOWER CORDIAL.
A Wicklow Rhubarb and Gorse Flower Crumble with Ballyhubbock Sheep Vanilla Ice Cream with Rosehip Syrup and Hazelnuts
The Glen of Imaal Crumble is a delightful dessert which celebrates our tradition in County Wicklow of being able to turn ingredients from our hedgerows into something delicious, as well as celebrating innovation when it comes to farming.
Wicklow is synonymous with gorse – the bright yellow flowers fill the air with its exotic coconut scent. We are a county well known for our reputation as foragers and we are blessed to have the expertise of botanical foragers can be found gathering things like the berries mentioned earlier and gorse flowers from hedgerows up mountains and down laneways better than most. Rosehips are an edible representation of the colourful gardens found in the stately homes across the county, often with walled gardens where growing rhubarb is a common sight. The combination of gorse flowers, rosehips and home-grown rhubarb (where the wild meets the tamed) and we have a beautiful flavour for a top-notch Wicklow signature crumble.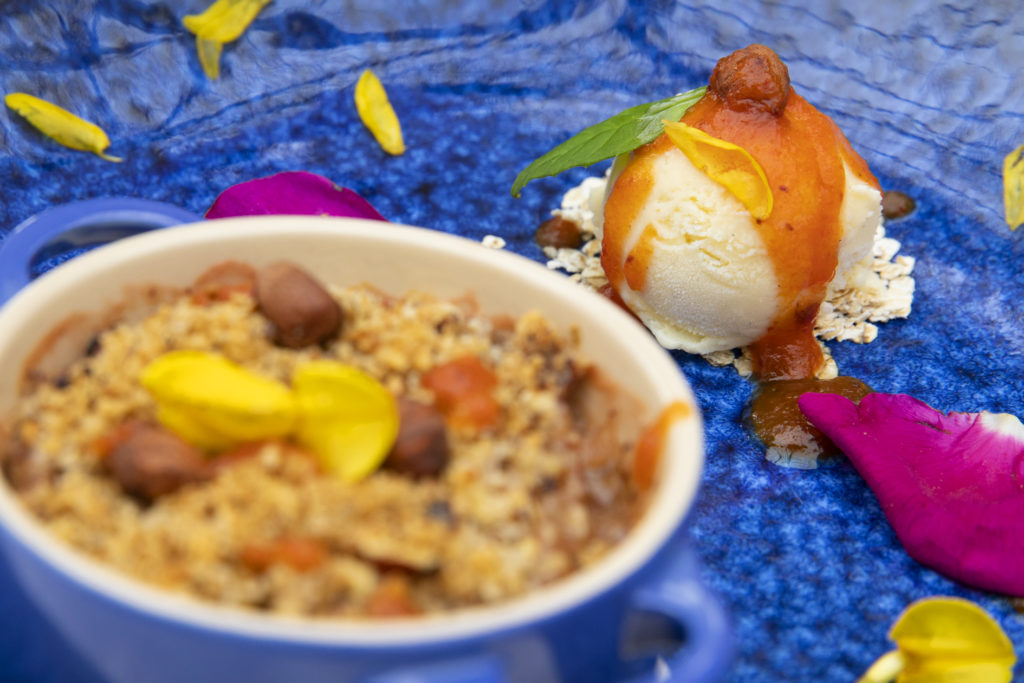 We often think of countries like Turkey when we think of Hazelnuts but in fact they grow all over County Wicklow and give added yum factor to a traditional crumble topping. What perfects this crumble is a handcrafted product created by a husband and wife team, who have re-invented their family farm. Ballyhubbock Farm is situated in the most stunning of settings in the beautiful Glen of Imaal. This business represents a modern innovation stemming from the tradition of sheep farming which is also very much part of Wicklow culture.
Paired with Elderflower Cordial
We have paired The Glen of Imaal Crumble with some beautiful elderflower cordial, handmade using elderflowers from Wicklow hedgerows in summer-time. What a light, refreshing and beautiful ending to our three courses before moving on to The Aislinn Cheeseboard.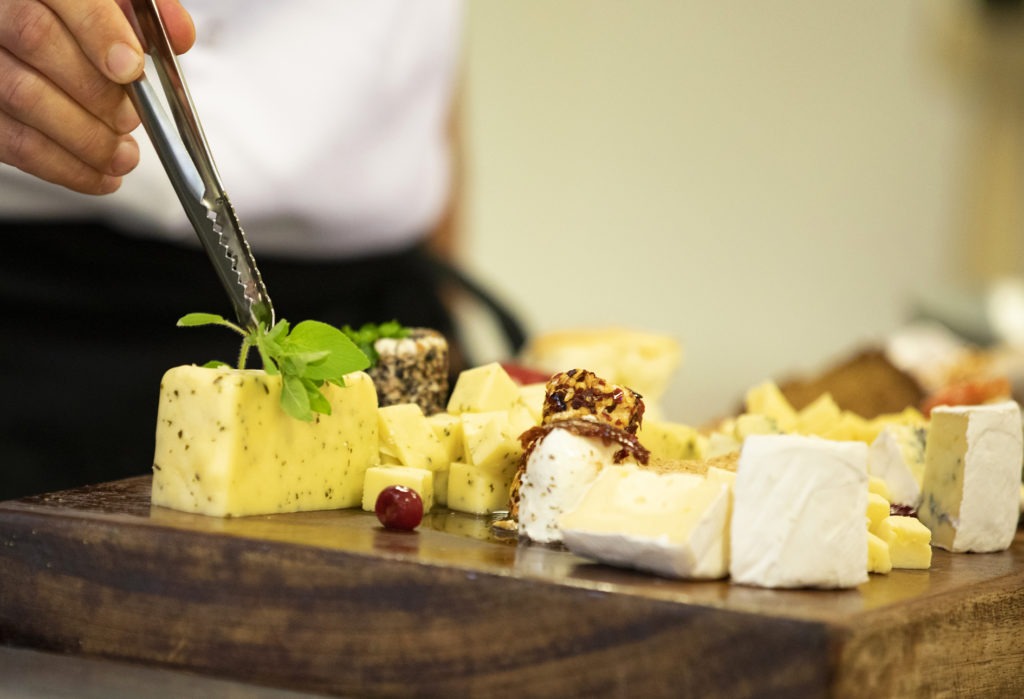 TO FINISH: THE AISLINN CHEESEBOARD PAIRED WITH FERCULLEN 10 YEAR OLDWHISKEY.
Aislinn Cheeseboard: A Selection of Wicklow Cheeses Served with local honey, relishes, chutneys and breads.
The Aislinn Cheeseboard is named after an ancient Irish tale of a young scholar who goes on a quest for cheese after a having a powerful dream/ vision instructing him to do so. This dish is a chance to showcase a vast array of local food product producers from across the Garden County.
Here in Wicklow we are fortunate in Wicklow to have may dedicated and talented cheesemakers and between them they have provided us with an array of cows, sheep and goats cheeses. There's the multi-award-winning Blue Brie, The Wicklow Bawn and a Nettle and Chive Cheddar from Hempenstall's Wicklow Farmhouse Cheese company just outside Arklow. The Friesian cow herd graze near the seaside giving their double-cream cheeses a unique taste. A strong cheddar also features on our cheeseboard and we are lucky to be spoilt for choice in Wicklow – the wonderful Coolattin Cheddar from West Wicklow, made from summer milk when cattle have been grazing on clover rich pasture. This raw milk cheddar is matured over a year to allow a full sweet and nutty flavour to develop.
Our cheese board doesn't end with cow's milk. Sheep are synonymous with the green Wicklow hillsides and it is wonderful to have that reflected on our cheese board with the Ballyhubbock Farm sheep's milk Halloumi. Mountains goats feature widely throughout Wicklow too and Old MacDonnell's Farm bring us some of their magical goat's cheese from their smallholding in Kilmacanogue, North Wicklow. We have selected their 'Wicklow Mountain soft goat's cheese with Garlic and Herbs, and their mini Chevre, which are mini logs of fresh goat's cheese.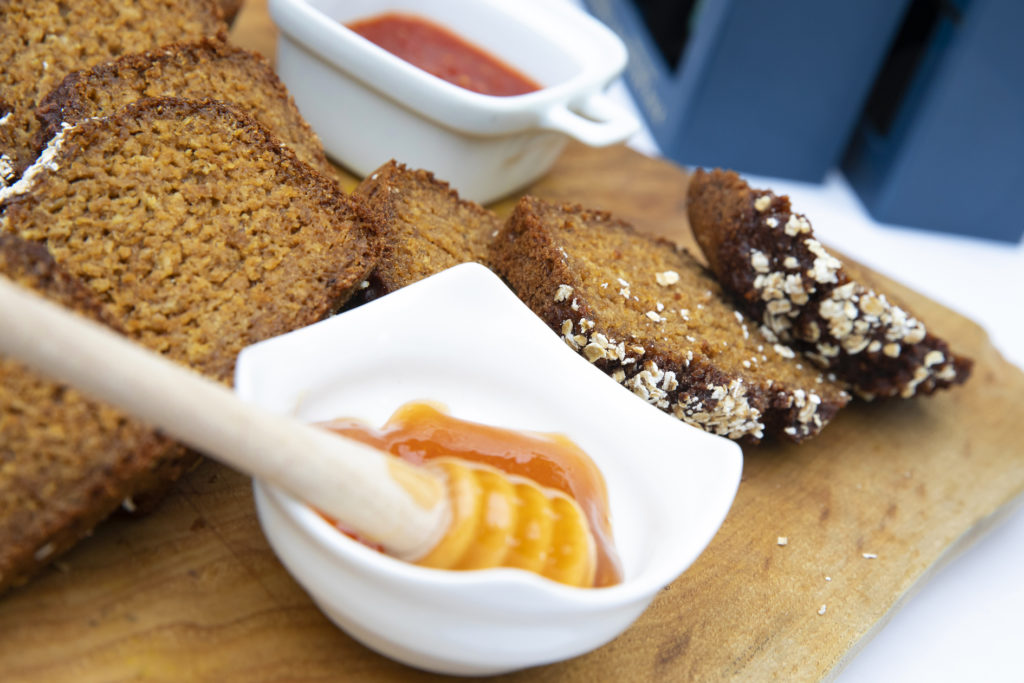 Our cheese selection comes with a number of recommended local accompaniments. The range by Tara Hill Honey are made by bees that gather pollen from all over South Wicklow giving a taste of the county's wilderness in a jar! Our recommendation is their Heather Honey which has strong medicinal properties. There is a wide selection of relishes and chutneys from producers such as The Birds and the Teas, Janet's Country Fayre and Kilruddery Estate that can be served with The Aislinn Cheeseboard. Our recommended bread is the Gluten free Oat and Buttermilk Bread from Daisy Cottage Farm. The delicate flavour of oats offers the perfect partner with which to taste our Wicklow Cheeses.
Instead of the traditional grapes, the Wicklow cheeseboard has a scattering of gooseberries -known locally as 'goose-gobs'- which grow in gardens across the county known as 'Garden of Ireland'.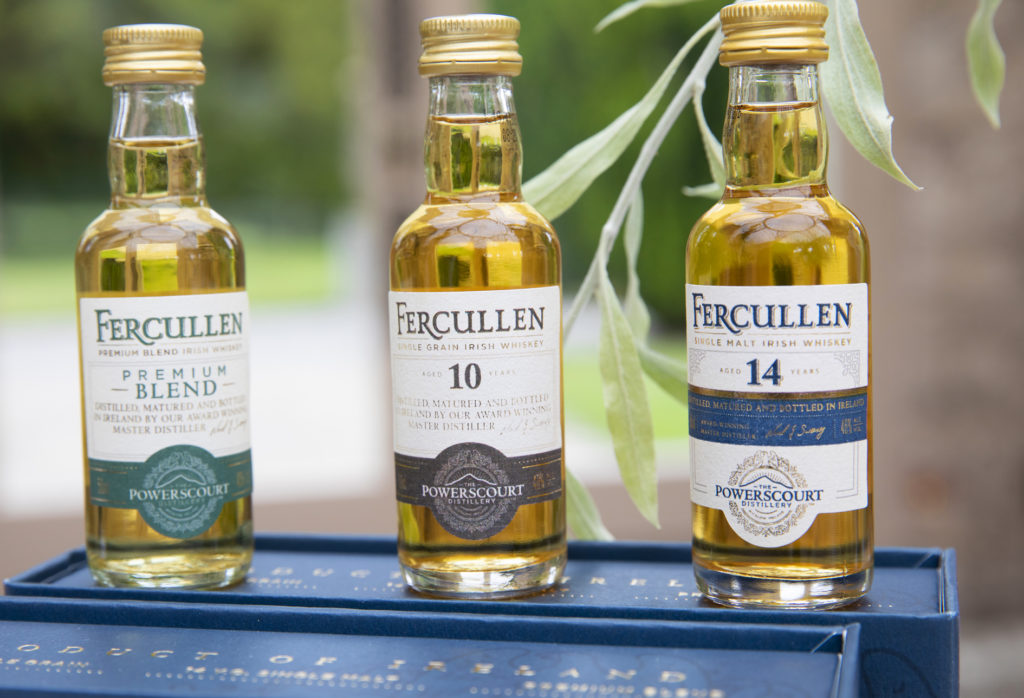 Paired with Fercullen Whiskey 10 Year Old
We are pair our cheese plate with Fercullen Irish Whiskey, distilled at Powerscourt Distillery. In the same way as Cheese and Wine pairings would be offered in other countries, we want to showcase our cheese with whiskey. This is a sweet whiskey which pairs well with the Wicklow Bán and a little taste of the heather honey. The whiskey cuts through the creaminess of the Wicklow Bán and the sweetness of the honey partners really well with the sweetness of the whiskey. Whiskey, cheese and honey – a true taste of Wicklow.
If you're a chef and would like to create these Wicklow Signature Dishes for your establishment please do get in touch with us by emailing hello@wicklownaturally.ie