Feed your appetite with Wicklow Naturally's October Feast 2021
Wicklow Naturally
Mon 27th September 2021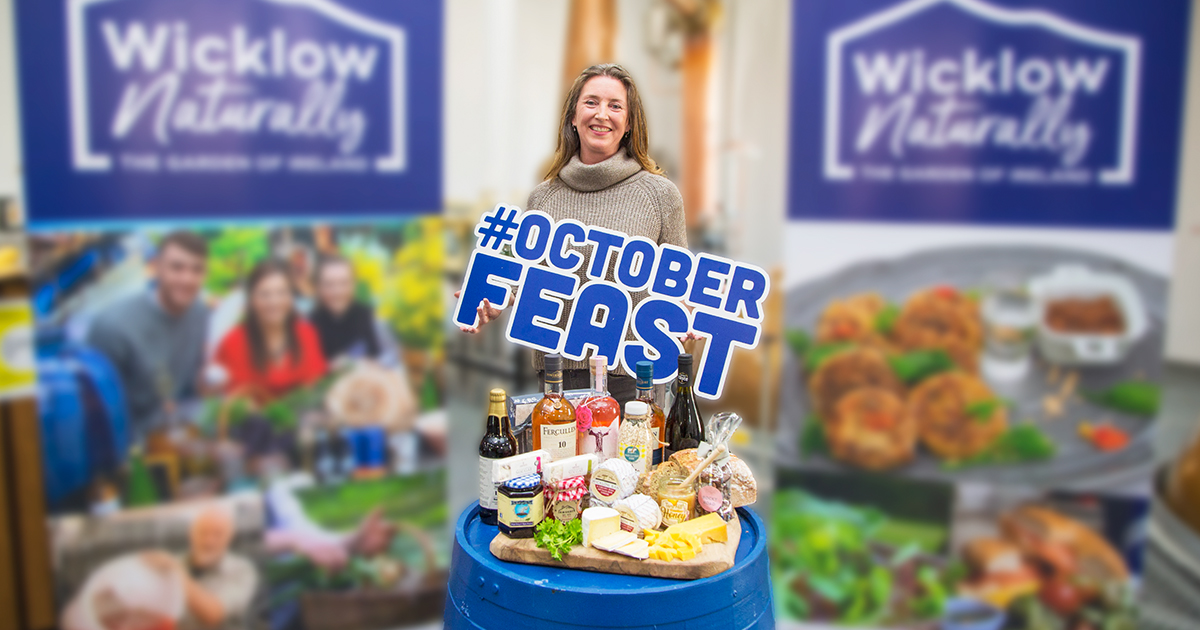 Wicklow Naturally's October Feast is a month-long celebration of Wicklow's food and drinks story, including farming, foraging, brewing, distilling, and much more.
October is traditionally the end of the harvest, so it is the perfect month to showcase Wicklow Naturally's members' unique selection of food and drink.
Wicklow Naturally's Chairperson, Pamela Walsh, said, "We aim to build on last year's success, with the 2021 event bursting with flavour with over 30 in-person and virtual events. We have created engaging, inclusive, and memorable events so that attendees can enjoy all that our excellent members have to offer."
Throughout October, we'll celebrate Wicklow's thriving food & drink scene by showcasing our members' range of products, diverse experiences, and numerous interactive events.
Feed your appetite and fill your calendar with these delicious events… From hands-on masterclasses, learning about our farm-family sustainable stories, taking some of the country's best distillery, beer, wine tasting tours, to cooking demonstrations, meeting the producer, and heading out on guided foraging and mushroom hunts.
We'll highlight the many hospitality and retail members' who carry Wicklow Naturally's products, as well as how they've partnered to use each other's food in very innovative ways.
The network will also hold food waste, food poverty, and environmental awareness initiatives.
Cathaoirleach of Wicklow County Council, Cllr Shay Cullen, said, "Combining the rich experience of in-person safe events and the reach and convenience of virtual events on offer, it's the ideal format for the October Feast 2021 programme as it gives the attendees equally rewarding experiences. So why not explore, discover and get involved in the many events planned across County Wicklow this October."
Read the October Feast special edition of our Wicklow Naturally Newsletter below:
If you can't view the document above, you can download it here.
Food lovers sign up for our Newsletter… Get the latest news, foodie competitions + more, straight to your inbox. Sign up here.
October Feast events 2021 at a glance…
This year's October Feast has something for everyone. There are 30+ unique in-person and virtual events to tantalise the tastebuds. The full event programme is available on our event page at https://wicklownaturally.ie/events/. Our event listings are available to download as a PDF here. Please save trees, save paper. Please consider the environment before printing.
Here are some of the highlights:
Meet the Makers
You can 'Meet the Makers', taste their delicious range, and get some great recipe ideas every Friday throughout October from 12 noon to 2 pm at Gallagher's SuperValu Wicklow.  The exciting schedule includes Mic's Chilli on October 1st, Wicklow Rapeseed Oil on October 8th, Old MacDonnell's Farm on October 15th, The Birds and the Teas on October 22nd, and Le Paysan on October 29th.
Enjoy a taste of Wicklow Naturally
Enjoy a taste of Wicklow Naturally as our eatery members throughout the county showcase the finest Wicklow produce in their seasonal menus. There are numerous dining experiences to tantalise your taste buds, including BrookLodge & Macreddin Village, Lily's On Church Street, Mickey Finn's Pub and Restaurant, Sorrel & Eve, The Wicklow Escape, The Victorian Tea Rooms, and Woodenbridge Hotel & Lodge.
Have a culinary adventure
Have an unforgettable culinary adventure with our bespoke food and drink producers' tours of County Wicklow and include:
Tour 1 –  Visit Ballyknocken House and Cookery School, Wicklow Farmhouse Cheese, and Wicklow Brewery on Saturday, October 2nd
Tour 2 – Enjoy a wonderful tour of West Wicklow food producers, with visits to Bailey's Farm, Tinahely Farm Shop, and Coolattin Cheddar on Saturday, October 9th
Tour 3 – Take in a tour of An Tairseach Organic Farm, cooking demonstration, and meal on Friday, October 8th. Book here.
Tour 4 – Includes a visit to Wicklow Way Wines (Winery), Wicklow Wolf Brewery, and Powerscourt Distillery on Saturday, October 16th
Tour 5 – Take a trip to BallyHubbock Farm, Daisy Cottage Farm, and Russborough House on Saturday, October 30th
On tours 2, 4, and 5 a locally-sourced light lunch or picnic is also included. Tickets for Tours 1, 2, 4, & 5 are €50.00 and can be purchased by emailing: chefpaulthemysticcelt@gmail.com or calling +353 87 6998103.
Forage for tasty ingredients
Our forager members Hips and Haws Wildcrafts, Mushroomstuff, and Wicklow Wild Foods will host several tours during October Feast to teach attendees how to forage for food in County Wicklow. 
Culinary Talks
Are you looking to escape from the comfort of your home? Well, why not join a member of the Wicklow Naturally network who will discuss Wicklow Signature Dishes and other culinary topics.
The free series of culinary library virtual events will take place every Tuesday throughout the month of October. These events will be streamed on Wicklow Naturally's Facebook page: facebook.com/WicklowNaturally at 7 pm.
Oíche Shamhna Cocktail Night
Powerscourt Distillery Ltd presents Oíche Shamhna Cocktail Night online event on Sunday, October 31st. The evening promises to be a great night. It will feature Fercullen Whiskey and other Wicklow Naturally members' products, including Kilmullen Farm's Apple Juice, Olly's Farm Honey, and Wicklow Way Wines.
Wicklow Naturally Extravaganza
Come and join us on the Market Square in Wicklow Town for a festival of hearty soul food, wine, beer, and music. We're excited to be showcasing the very best of Wicklow's produce together with our friends Sorrel & Eve, Brady's Coffee Company & Ernie's Bar on Thursday, October 21st from 6 pm.
Wicklow Naturally Market
Take home a taste of Wicklow from our exclusive Wicklow Naturally Market for October Feast. There will be a fabulous range of Wicklow Naturally produce to buy. The Market will be open from 10 am to 4 pm at Fitzwilliam Square in Wicklow Town on Saturday, October 9th, and Saturday, October 23rd.
Places are limited on tours and selected events. Tickets can be booked by visiting our event page at https://wicklownaturally.ie/events/. To book a dining experience at any of our members' eateries, please contact the hotel or restaurant directly.
All events are subject to change without notice and may be dependant on weather.
October Feast Student Challenge
We all know that food waste is an ethical and environmental problem as every year, about one-third of all food in the world is lost or wasted across all stages in the food supply chain.
Waste means opportunity so during Wicklow Naturally's month-long October Feast we've asked 6th Class and Transition Year students in County Wicklow to take part in our student challenge competition and suggest innovative solutions to food waste… entries can be submitted using the below form:
Enter our October Feast Photography Competition & be in with a chance to win a fantastic prize!
Simply attend a Wicklow Naturally October Feast event, share a photo on social media using the hashtag #OctoberFeast for a chance to win a fantastic Wicklow Naturally hamper and tickets for one of our members' food experiences of your choice. The competition closes on October 31st, 2021. For terms see below. 
Latest Event News
Be sure to stay up to date with the latest event news by following Wicklow Naturally on social media: https://www.facebook.com/WicklowNaturally/,  https://twitter.com/WicklowNatural1, or https://www.instagram.com/wicklownaturally/.
Event hashtags  
Our event hashtags are: #OctoberFeast, #FeedYourAppetite and #WicklowNaturally.
About October Feast
October Feast is about telling the story of Wicklow Naturally's members, promoting sustainability messages, letting people know what we do and showcasing the beautiful food and drink products from County Wicklow.
Covid-19 didn't stop us from putting on our inaugural October Feast in 2020. Our social media channels were a height of activity for the month, with the Wicklow Naturally family sharing hints, tips, virtual tours and demos. The virtual events managed to reach a staggering 1.2 million consumers.
October Feast is supported by Wicklow County Council, County Wicklow Partnership, LEADER Programme, Wicklow Local Enterprise Office and Fáilte Ireland.
About Wicklow Naturally
Wicklow Naturally is the single promotional voice that tells the story of food and drink produced in County Wicklow. It is a brand created to celebrate the food and drink producers who work hard to deliver high-quality products to consumers through the hospitality sector, retail, food and drink events and essential tourism events.
You can learn more about our members' stories here.
These are terms and conditions which are applicable for all Wicklow Naturally competitions:
Wicklow Naturally decision in relation to the selection of prize winner(s) is final and no correspondence will be entered into.
In the event of any dispute regarding the rules, conduct or the results of a competition the decision of Wicklow Naturally will be final.
Wicklow Naturally competitions are not open to any of the Wicklow Naturally family, or their family members or anyone else connected in any way with the competition or helping to set up the competition shall not be permitted to enter the competition.
In some cases, there will no entry fee and no purchase necessary to enter this competition.
Closing date for entry published on our website or on a social media post. After this date, no further entries to the competition will be permitted.
No responsibility can be accepted for entries not received for whatever reason.
Wicklow Naturally reserves the right to cancel or amend the competition and these terms and conditions without notice in the event of a catastrophe, war, civil or military disturbance, act of God or any actual or anticipated breach of any applicable law or regulation or any other event outside of the promoter's control. Any changes to the competition will be notified to entrants as soon as possible by Wicklow Naturally.
Wicklow Naturally is not responsible for inaccurate prize details supplied to any entrant by any third party connected with this competition.
No cash alternative to the prizes will be offered. The prizes are not transferable. Prizes are subject to availability and we reserve the right to substitute any prize with another of equivalent value without giving notice.
Winners will be chosen at random by software from all entries received and verified by Wicklow Naturally.
The winner will be notified by either a social media post, on our website or email within 2 / 3 working days of the closing date. If the winner cannot be contacted or do not claim the prize within the given time frame, we reserve the right to withdraw the prize from the winner and pick a replacement winner.
Winner(s) announcements will be made in a public social media posting through our Facebook and Twitter profiles. We will NOT direct message or tag any winner(s) on Facebook. We may tag winner(s) that have entered on Twitter as this is currently permitted.
It is the responsibility of the entrant to check our social media sites, our website for winner(s) announcements.
The winner(s) must claim the prize by directing mailing us on Facebook, Twitter or by email and within the given time frame.
Prizes not claimed within the specified time limit will be deemed to have been forfeited and Wicklow Naturally may dispose of such prizes without any liability to the winner.
Wicklow Naturally will notify the winner when and where the prize can be collected.
Wicklow Naturally will require your full name, address and email address in order to post the prize out or to email you on the competition prize i.e. online voucher or tickets.
We may share your contact details with our competition partners in order for them to honour / fulfil the competition prize i.e. post or email you on the prize – online voucher or tickets directly with you.
By entering this competition, an entrant is indicating his/her agreement to be bound by these terms and conditions.
The winner agrees to the use of his/her name and image in any publicity material. Any personal data relating to the winner or any other entrants will be used solely in accordance with current Irish data protection legislation and will not be disclosed to a third party without the entrant's prior consent.
Entry into the competition will be deemed as acceptance of these terms and conditions.
Any person found to be in disregard of these rules will be disqualified automatically.
You must be over 18 to enter.
Wicklow Naturally reserves the right to disqualify any contestant for any reason whatsoever in its sole discretion.
For photo competitions: All submitted images must be the entrant's original work and must not have been published elsewhere or by someone else. It is the responsibility of each entrant to ensure that each submitted image does not infringe the copyright of any third party or any laws. Entrants must warrant that the photograph they are submitting is their own work and that they own the copyright for it.
For photo or colouring competitions: The copyright of all submitted images for this competition belongs to the respective participant. However, by entering the competition, the participant grants Wicklow Naturally Team a non-exclusive, irrevocable license to reproduce, enlarge, publish or exhibit the images in the media, on our website and social media channels.
Wicklow Naturally's decision in respect of all matters to do with the competition will be final and no correspondence will be entered into.
Wicklow Naturally fully respects your right to privacy in relation to your interactions with us. Any information which you send on to us will be treated with the highest standard of security and confidentiality, strictly in accordance with the Data Protection Law.