Wicklow Signature Dishes as featured on RTE Nationwide – your guide to making these fabulous dishes!
Wicklow Naturally
Sun 01st November 2020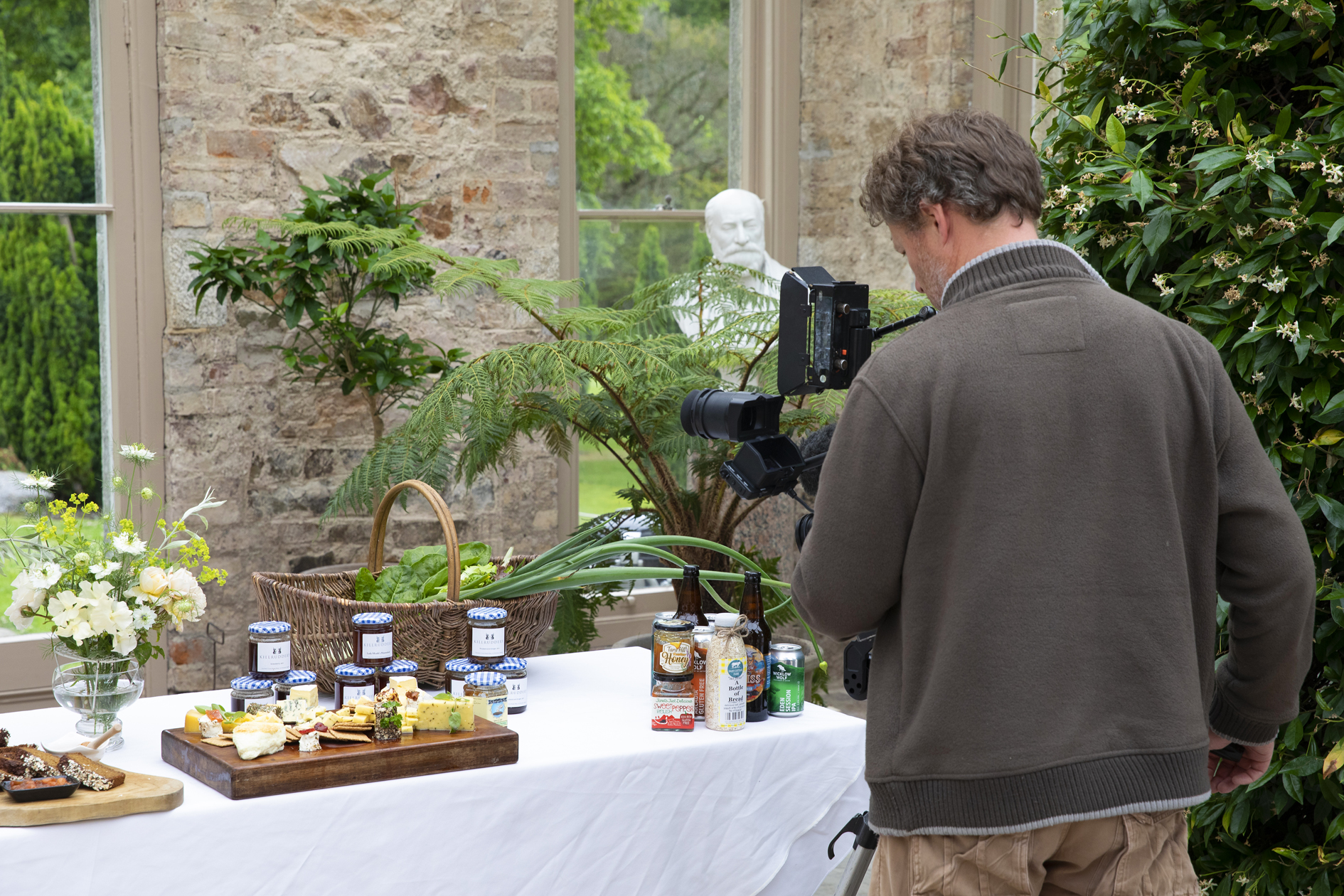 RTE Nationwide aired an episode on October 23 which featured our Wicklow Signature Dishes lovingly created by our team of chefs, has captured the attention of food and drink writers as well as attracting enquiries from the public as to how they can get to taste this delicious four course menu.
The episode, which if you missed it can be viewed again HERE also featured our member Wicklow Way Wines (Winery)  as well as featuring things to do in and around our stunning Wicklow mountains.
Since Wicklow Naturally, the county's food and drink network launched in April 2020, a group of chefs have been working hard to create Wicklow Signature Dishes which celebrate the rugged, wild and bountiful Garden of Ireland.
Presenting the Wicklow Signature Dishes on RTE Nationwide from Killruddery House & Gardens was chef Tadgh Byrne and also Santina Kennedy of Powerscourt Distillery.
Since then we have been inundated with requests as to how people can make these delicious Wicklow Signature Dishes at home, so, we are releasing these fabulous recipes so you can purchase the Wicklow ingredients and make your own at home.
STARTER:
The Wicklow Stampy (Serves 2) Paired with Glendalough Poitin
This dish can be a vegan or vegetarian depending on whether you fry it in oil or butter and what dipping sauce (wild garlic or wild sorrel pesto) you serve it with. Relish is a good vegan option but you can also use local yoghurt or mayonnaise. Go easy on the salt when seasoning, as the beet and samphire are quite salty.
Ingredients:
1 Medium Sized Potato (rooster or similar)
1/2 Granny Smith Apple
50g of Sea Beet (aka Sea Spinach – or you can substitute this with regular spinach)
50g of Rock Samphire (or you can substitute with asparagus or marsh samphire)
100g Pearl Barley (uncooked) – Finely Milled in a Blender or Spice Grinder
Salt and Pepper
Method:
Boil the potato for 10 mins until nearly cooked but still firm. Keep the boiling water and blanch the sea beet and samphire for 10 seconds before dropping in a ice bath. Allow the potato to cool.
Meanwhile grate the apple and strain off excess liquid with a strainer or squeeze through a jay-cloth. Grate the potato when it is cold enough to handle, including the skin.
Combine grated apple and potato in a bowl. Chop the greens and add those to the bowl also. Add seasoning and mix well.
Form into small cakes a little bit smaller than a golf ball. Press down into a disk shape. Toss these in the course barley flour to coat.
Fry in local rapeseed oil (add a knob of butter to the pan if you wish)for 4-5 mins each side, until nicely browned and crisp on the outside. If you find they are soft and soggy – increase the heat of the pan.
Leave to rest on kitchen paper for a few seconds. Serve 2-3 cakes per person with a dipping sauce of your choice (see above).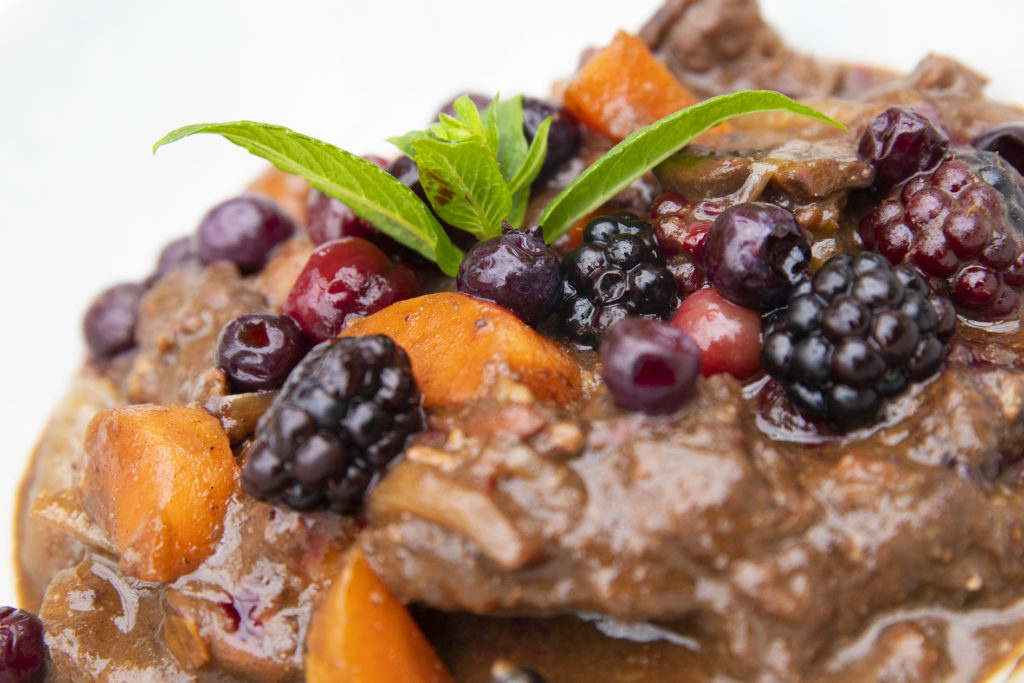 MAIN COURSE:
The Huntsman's Stew Recipe(Serves 4 – with Accompaniments): Paired with Wicklow Way Wines (Winery) Móinéir Blackberry Wine 
Venison is generally in season from September to April, however, small amounts are available on request throughout the summer. Venison is the iconic Wicklow meat but the recipe can be made with Kilmullen Farm Lamb or Wicklow Beef which are also farmed in abundance across the county. Ask your Wicklow butcher for relevant stewing cuts diced into cubes.
Wild Blackberries and Elderberries are in season in Wicklow from late August, Bilberries from July. It is recommended that you gather large amounts of berries throughout the summer and freeze them for use throughout the winter. Raspberries or sloe berries can also be substituted. You may need to adjust the sugar content of the stew to balance out any bitterness.
This recipe can be made either in a large pot on the hob or, ideally, in a casserole dish so the ingredients can meat can be browned on a high heat on the hob then be slow cooked in the oven. The Huntsman's Stew can also be served in pastry as a pie.
Ingredients:
1kg Venison (in cubes) Wild Irish Game
2 Tbsp Wicklow Rapeseed Oil
2 Smoky Bacon Rashers – diced
A knob of butter – try Dunlavin butter and you can buy it HERE
200g Carrot – Rough Dice
200g Onion – Rough Dice
100g Celery– Rough Dice
200g of Wild Mushrooms (Optional)
2 Garlic Cloves – finely sliced
500ml Local Stout – from Wicklow Wolf Brewery or Wicklow Brewery
Sprig of Rosemary
5 Juniper Berries
2 Tbsp Oatmeal
4Tbsp of Blackberry Jam OR 100g Blackberries and 2 Tbsp of Brown Sugar
1 Tsp of Salt
A Generous Grinding of Black Pepper
To Finish:
100g Blackberries
100g Bilberries (aka Fraughan Berries)
100g Elderberries
Edible Flowers – Nesturtiums, Marigolds, Borage.
Method:
Brown the diced venison in a large pot or casserole dish in the rapeseed oil, small batches, on a high heat. Set aside in a large bowl.
Sauté the vegetables, mushrooms and bacon in the pan juices with a knob of butter. Stir regularly for 5 mins.
Add the garlic and rosemary and stir for another minute.
Add the stout, oatmeal, blackberries and sugar (or Jam), juniper berries, salt and pepper. Cover and leave to simmer for up to 4 hours, either in a pot on a medium heat on the hob or, in a casserole dish in the oven at 180*.
Stir every hour and check meat for tenderness. If it is looking dry, add some water or meat stock of your choice.
Remove when the venison meat is tender but still holding its shape.
Stir through the mixed berries at the last minute. If reheating to order (ie: in a restaurant setting) add the berries last also. A couple of minutes should be enough to warm them and infuse some flavour through the stew.
Serve in a nice bowl or dish with a side of seasonal vegetables and mashed potatoes. Garnish with a few berries and edible flower petals on top.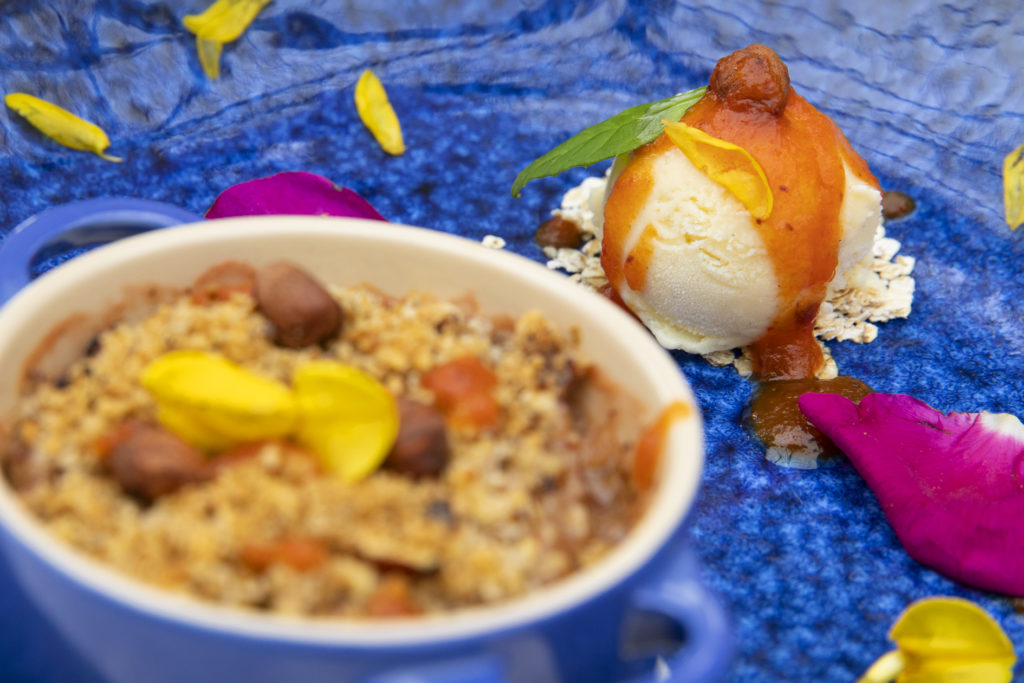 DESSERT:
The Glen of Imaal Crumble (Serves 4 with Ice Cream): Paired with Elderflower Cordial
This dish has nice colours of red, yellow, brown and white. You can add a strawberry to the rhubarb compote to turn it pink if you wish. Gorseflowers can be foraged from the Wicklow Mountains but commercial gorse syrup is available. They have a coconut/ almond taste.
Rosehips are available from any garden where roses grow. Once a rose has shed its petals, the hips are left behind. Just be careful not to press them too aggressively through the strainer as the small hairs in the centre of rosehips can irritate the stomach lining!
Ingredients:
Rhubarb Compote
500g rhubarb, chopped into chunks the length of your thumb (depending on the season, you can substitute rhubarb with cooking apples
100g golden caster sugar
2 Tbsp Gorseflowers plus extra for garnish
1 strawberry (optional)
Crumble topping
4 tbsp plain flour
85g unsalted chilled butter , cubed
85g soft brown sugar
50g oats
25g chopped Wicklow hazelnuts
½ tsp cinnamon
Rosehip Coulis
65 g rosehips (depending on the season, these can be substituted with raspberries or strawberries)
80 g caster sugar
2 Tbsp Water
1 Jar of Cranberry/ Redcurrant Jelly
2Tbls lemon juice
To Serve:
Ballyhubbock Farm Ice Cream and gorseflowers and pair with elderflower cordial. We have paired The Glen of Imaal Crumble with some beautiful elderflower cordial, handmade using elderflowers from Wicklow hedgerows in summer-time. What a light, refreshing and beautiful ending to our three courses before moving on to The Aislinn Cheeseboard.
Method:
Wash the rosehips and remove the green part as it is bitter. Boil for 15 mins with sugar, water and lemon juice until the hips are soft. Pulse this mix in a blender a couple of times. Softly strain through a fine muslin cloth or fine strainer making sure no hairs or fibres from the rosehips get through. Combine this infusion to the jelly and to melt the jelly over a gentle heat. Allow to cool.
Rub the crumble ingredients (except hazelnuts) together. When 'crumbly' add the hazelnuts and combine for another minute or so. Toast this mix on a flat tray in an oven for 10 mins at 170*c.
Combine the rhubarb, sugar, gorseflowers and water (and optional strawberry) in a small pot. Cover and gently boil for 10mins until the rhubarb is soft but still holding its shape.
Divide the rhubarb and gorse mix between 4 ramekins. Top with cooked crumble topping. Heat these in the oven until warmed through. Serve with a neat scoop/ quenelle of sheep's milk ice cream and dots of rosehip coulis and scatter gorseflowers around.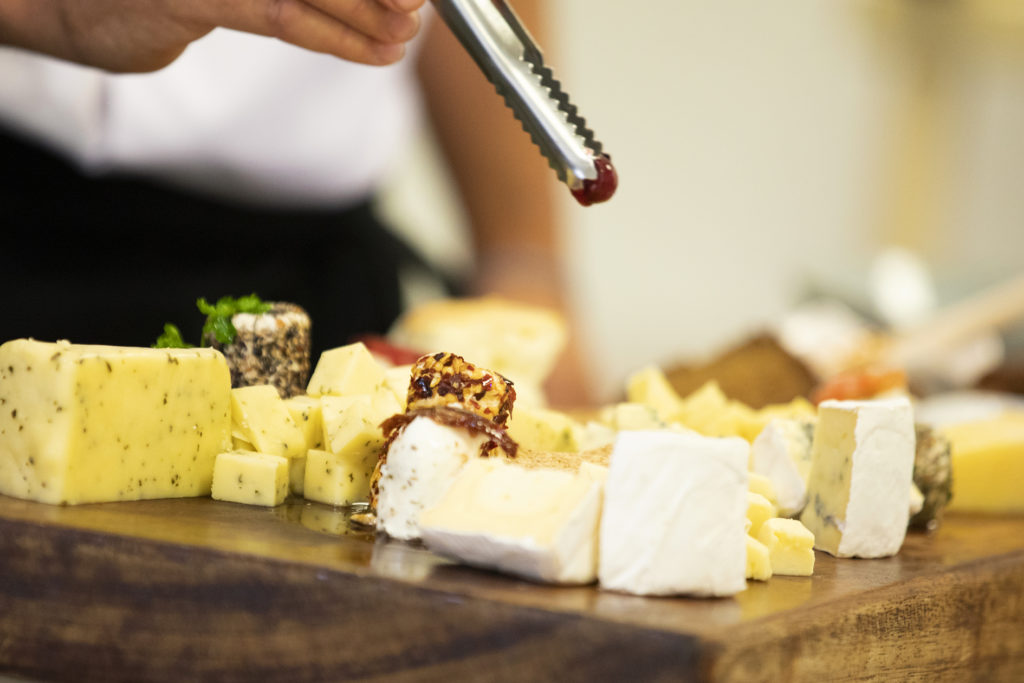 CHEESEBOARD:
The Aislinn Cheeseboard Paired with Fercullen 10-Year-Old Whiskey from The Powerscourt Distillery
 A Selection of Wicklow Cheeses Served with local honey, relishes, chutneys and breads.
Recommended accompaniments:
We really hope you enjoy these delicious Wicklow Signature Dishes. For anyone wishing to purchase the dishes you can do so by placing orders with Lily's On Church Street as a takeaway and Killruddery will also be selling The Hunstman's Stew every Saturday. Please also check out our member Bread & Berries where you can purchase many Wicklow products including fantastic Christmas hampers.