It's officially BBQ season so why not fire up the coals and indulge yourself with the delicious taste of Wicklow…
Santina Kennedy
Wed 23rd June 2021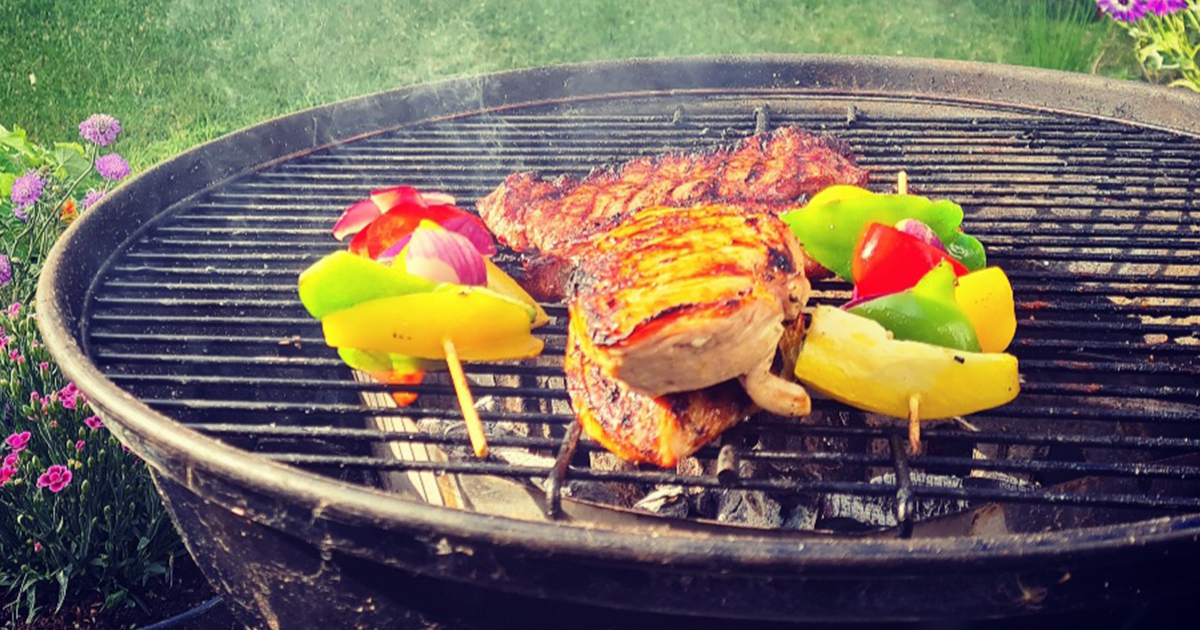 All over the county, people are dusting off their barbeques and firing them up for summer feasts. Of course, nothing beats the simple pleasure of eating outdoors, but the real treat is to grill your food outdoors over an open flame. It's a great social occasion, whether it's just a simple burger or a meat feast or some vegetable skewers. Since the beginning of time, cooking over a fire has been a very friendly way to prepare food. The sense of anticipation as the delicious aromas waft from the barbeque adds to the occasion.
Simplicity is vital when cooking over a barbeque, but simply cooked food requires the very best raw ingredients. Luckily for us in County Wicklow, there is no shortage of delicious meats to cook over the fire, vegetable options, and excellent marinades. To serve alongside there are tasty relishes and sauces and, of course, a great range of refreshing beers to enjoy with our outdoor feast.
There are some great offers from our butcher members this week. Keith Grant Master Butchers have prepared some tasty Garlic and Herb Chicken Spears for the BBQ this weekend. Keith has a fantastic range of meats and lots of other Wicklow Naturally produce available in his wonderful butchers shop in Roundwood. Learn more about Keith's butcher shop here.
Why not check out the range of locally reared meat at Doyle's Butchers in Dunlavin?  You can be assured of the finest quality beef and lamb as it is raised on the family farm nearby. Find out more about what is available from this high-quality butcher here.
Is there anything more delicious from the barbeque than lamb? Well, the finest of them all is Wicklow Lamb! Check out what is available from Kilmullen Farm. Margaret Hoctor sells the lamb produced on their family farm directly to the consumer. Find out how to get some of this superb quality lamb here.
Suppose you are serving salads or grilled vegetables with your barbeque. In that case, we can recommend a range of greengrocers from our Wicklow Naturally network who have an abundance of fresh seasonal vegetables. Kelly's Fruit and Veg supply a fantastic range at their shop in Wicklow Town. For more details of what they offer, see their Facebook page here.
An Tairseach Organic Farm and Ecology Centre offers a vast array of beautiful fresh produce, including homegrown vegetables and fruit. Read more about their work here.
Every barbeque needs some tasty dips, marinades and relishes, and we don't have to look very far in County Wicklow to find some top quality flavours from our Wicklow Naturally members.
Janet's Country Fayre offers a fine range of relishes and chutneys to top off your burger. Find out more about her delectable Sweet Pepper Relish and Cucumber Pickle here.
Another bountiful range is available from our member The Birds and The Teas, who have delicious hand prepared, slow-cooked pickles, relishes and chutneys to give the final flourish to your barbequed meat. Learn about their range here.
A simple marinade can transform your barbequed meat, and our member Caffrey's Sauces produces a wonderful range of marinades to make your barbeque sensational. Find out more about their superb range here.
Finally, a perfect accompaniment to barbequed food is, of course, a cool refreshing beverage. Now is the ideal time to make elderflower cordial, so why not pick some wild elderflower growing around County Wicklow and make yourself a batch. If beer is your beverage of choice, then Wicklow Naturally members Wicklow Wolf and Wicklow Brewery have the tastiest craft beer options.
Of course, if you will be barbequing, please do so in a safe place, follow the manufacturer's instructions, and if barbecuing in public areas, please only use designated barbeque spots.
So, why not go outdoors this weekend, enjoy the time-honoured cooking rituals over an open fire and enjoy a delicious taste of Wicklow!
Photo courtesy of @santinas_irish_food_tales.