At Ballyhubbock Farm, George Finlay and Hannah Sheerin are bringing something unique…
Wicklow Naturally
Sun 29th August 2021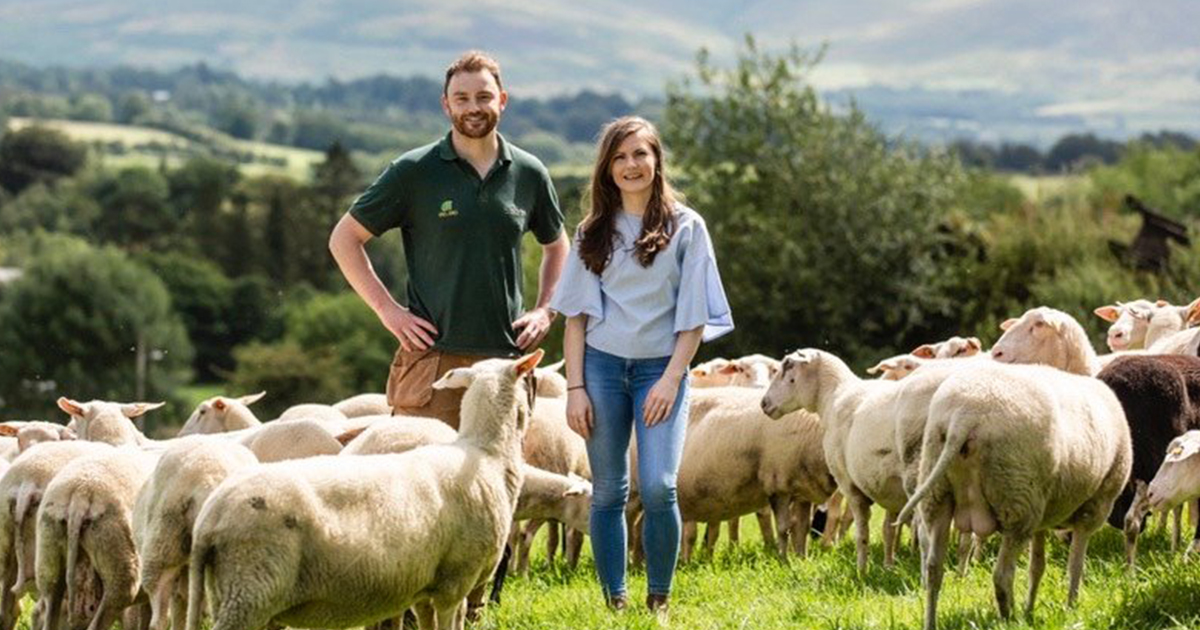 Known as the Garden of Ireland, Wicklow is home to some very inspirational food and drinks producers. The Wicklow mountains are famous for their sheep farms, and the Wicklow lamb is renowned all over Ireland for its great flavour. However, a less well-known product of sheep farming in Wicklow is sheep's milk, and innovative farmers George Finlay and Hannah Sheerin at Ballyhubbock Farm produce some fantastic cheese and ice cream from their scenic farm in West Wicklow.
The couple describes themselves as farmers and foodies. They are passionate about producing and promoting natural farm-fresh sheep's milk production. They say that sheep's milk is both highly nutritious and delicious and is suitable for those with an intolerance to cow's milk. Their flock are grass-fed for extra flavour and goodness.
Their small batch cheese is handcrafted in a similar style to traditional Mediterranean halloumi cheese. Halloumi is a delicious alternative to meat on a barbeque and tastes terrific grilled with a salad. It can be sliced and coated in breadcrumbs and deep-fried to make Halloumi chips. We particularly recommend it simply grilled and served in a pitta bread with salad leaves from our member An Tairseach Organic Farm & Ecology Centre and some delicious beetroot chutney from our member Janet's Country Fayre. This makes a light and delicious lunch with ingredients from our Wicklow Naturally network! What could be tastier?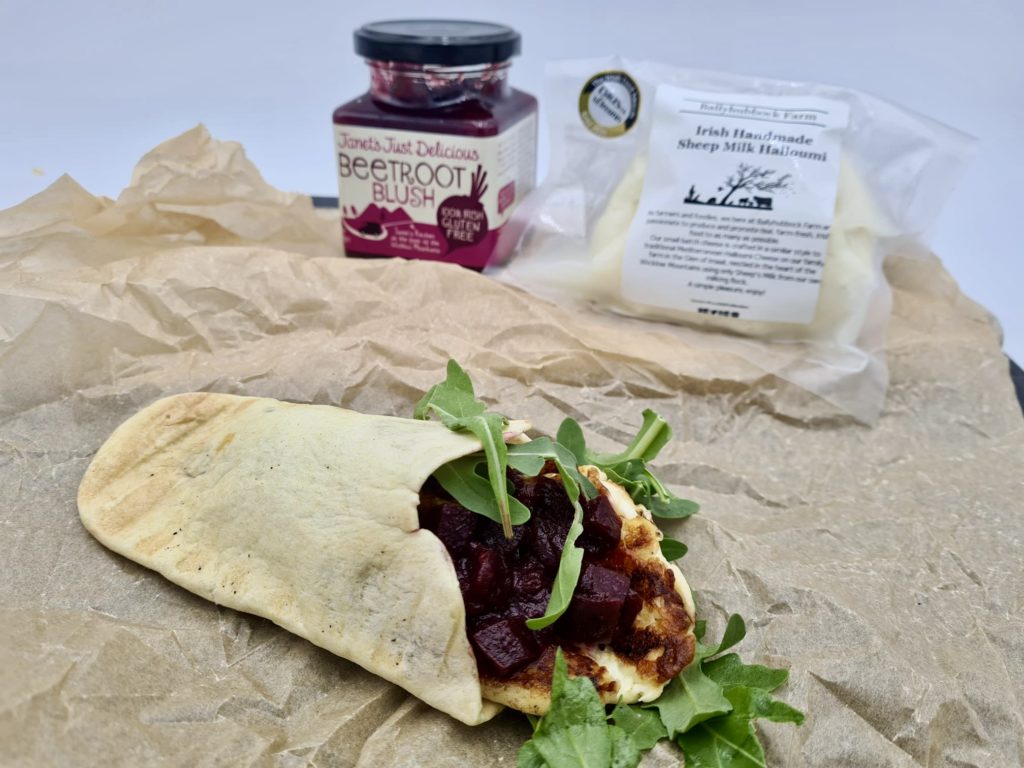 The Ballyhubbock range doesn't just end with cheese! The West Wicklow farm also brings a delicious range of ice cream to the table. George and Hanna say that sheep's milk is the ideal natural base for making ice cream as it is also creamier and sweeter than traditional cow's milk. The farm has established a reputation for quality and its range of unique flavours, including chocolate ganache, lemon curd, raspberry crumble and vanilla.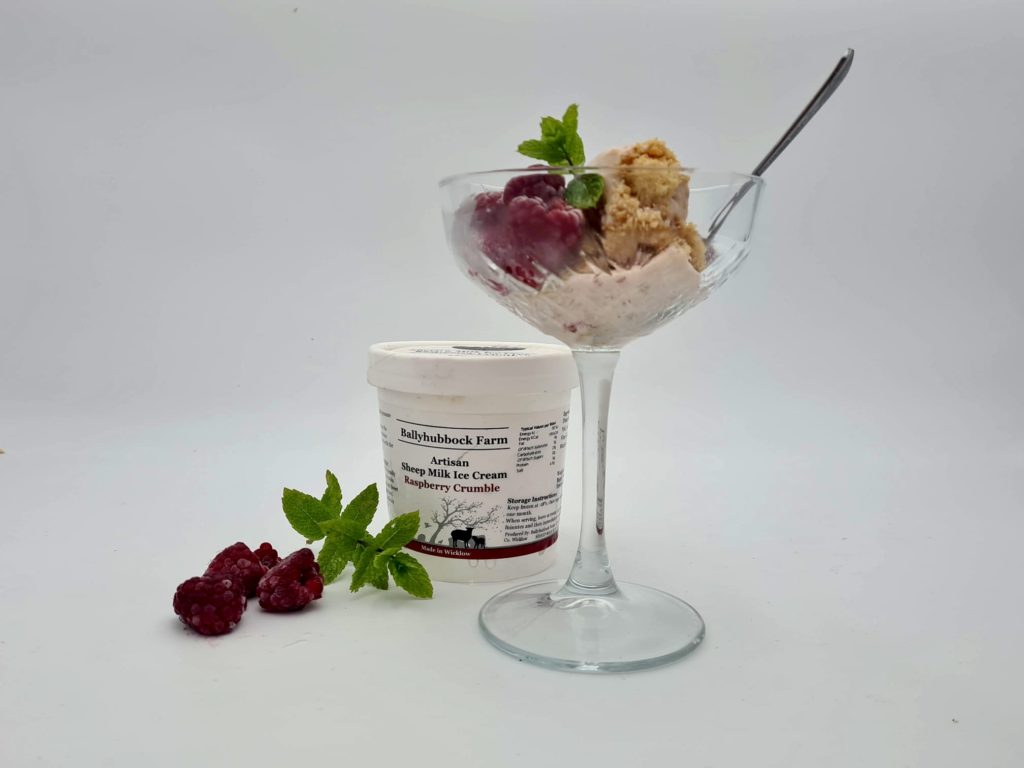 Wicklow Naturally is proud to serve Ballyhubbock Ice cream as part of its signature dessert. The ice cream is so wonderful – the dessert has been named The Glen of Imaal Crumble after the beautiful location of the West Wicklow Farm! Learn how to make the Glen of Imaal Crumble here.
Ballyhubbock Farm is the perfect combination of tradition and innovation. Their sheep farm is part of the beautiful farming tradition synonymous with County Wicklow, and their innovation has added another variety of dairy to the Wicklow Naturally table. Alongside the traditional dairy farms, Wicklow can also list goats and now sheep's milk as part of its #LoveDairy offering!
Learn more about the award-winning Ballyhubbock Farm here.
#LoveDairy 
Read more in our #LoveDairy series via the below links:
Keep watching out for our #LoveDairy hashtag to learn more about Wicklow Naturally's fantastic dairy producers!