Old MacDonnell's yoghurt is perhaps one of the most versatile of Wicklow's dairy products…
Wicklow Naturally
Sun 01st August 2021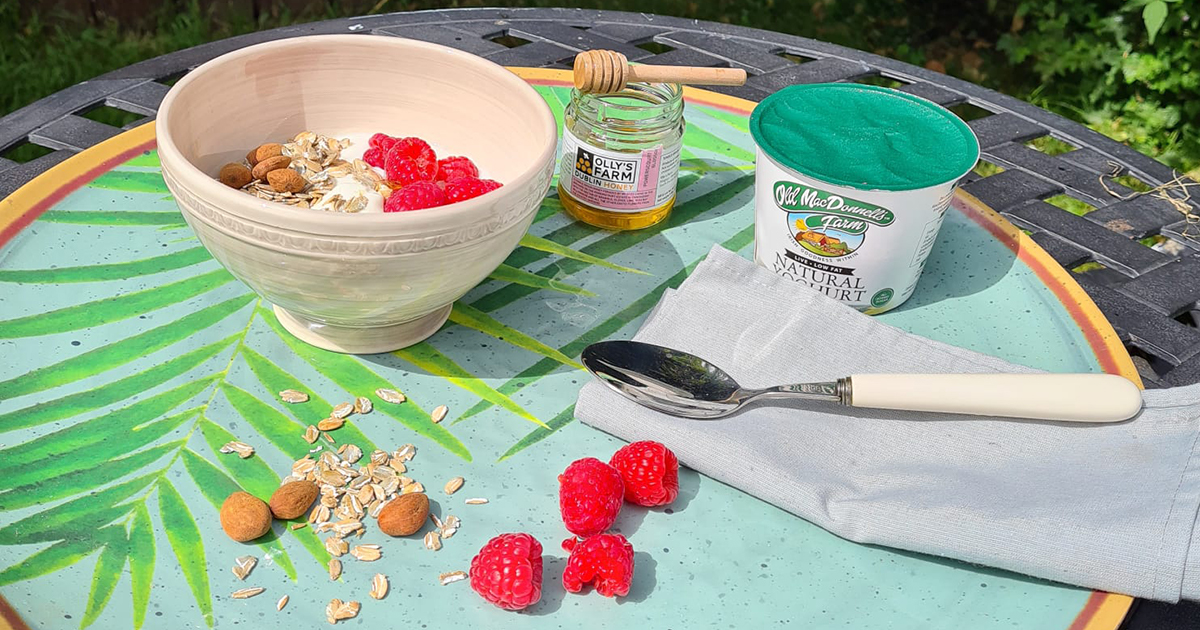 Wicklow has such a variety of delicious dairy products, not only from cow's milk but also from sheep and goat's milk. Wicklow's abundant dairy selection includes milk, cream, ice cream, goat's cheese, soft cheeses, aged cheddar, flavoured cheese and yoghurts.
Its variety of uses only matches the selection of dairy products. Wicklow's dairy products can be enjoyed on their own, as part of a meal, or even as essential recipe ingredients.
Old MacDonnell's yoghurt is perhaps one of the most versatile of Wicklow's dairy products. It can be enjoyed on its own or, with granola and beautiful honey from our members Olly's Honey or Tara Hill Honey.  It can be the basis for Tzatziki, a lovely cooling side dish made with mint and cucumber for a spicy main course completed with a Sukhi's India spice mix! It can be served with fresh local fruit such as Conroy's Wicklow Raspberries which are currently in season!
We've included it in this beautiful brown bread, made with a mix from our member Daisy Cottage Farm. This 'Bottle of Bread' mix needs only yoghurt, oil (we've used Wicklow Rapeseed Oil from our member Sussed Nutrition), and treacle and can be baked in only 50 minutes to produce this delicious loaf. The only tricky part of this recipe is waiting for it to cool down before serving with some delicious goat's cheese, also from Old McDonnell's Farm.
Learn more about Old MacDonnell's Farm here.
#LoveDairy 
Read more in our #LoveDairy series via the below links:
Keep watching out for our #LoveDairy hashtag to learn more about Wicklow Naturally's fantastic dairy producers!