Some top tips for a perfect picnic this summer… while supporting our Wicklow Naturally Family
Santina Kennedy
Fri 11th June 2021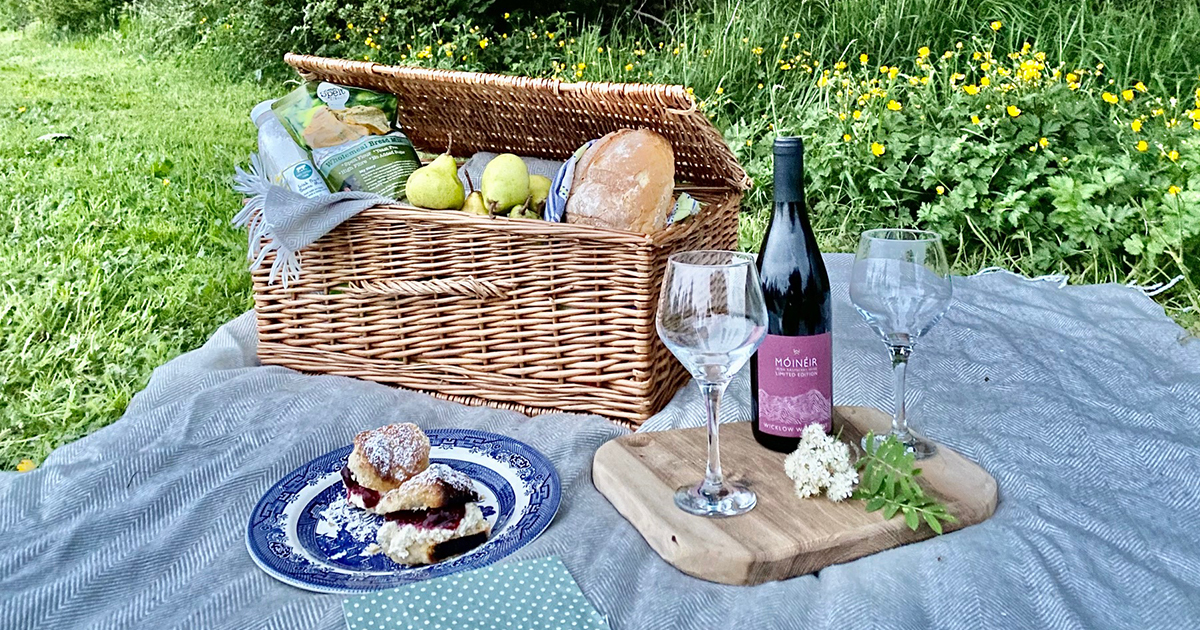 One of the summer's great pleasures is taking a basket of lovely food and drink to a beautiful place outdoors and enjoying a picnic with family and friends. There are so many scenic spots in County Wicklow to unfold a picnic blanket and enjoy an alfresco feast.
From the beautiful Wicklow coastline to the wild Wicklow mountains, there are picnic spots in woods, lakes, beach, local parks, or even just in your garden! We have some tips for packing up the perfect picnic and making a memorable day:
Be prepared – Irish weather is mild but unreliable! Pack light raingear even if it's sunny, and always pack sunscreen.
Choose a sunny spot with some shade. Sunny days are welcome, and sunshine can sometimes seem elusive in Ireland. However, it's still a good idea to make sure that there is some shade near your picnic spot so that if the sun does shine, it doesn't get uncomfortably hot.
Keep your food chilled. If you have prepared fresh food, be sure to pack it in a chilled lunchbox or cooler bag.
The idea of a picnic is to eat off the picnic blanket, but a flat surface helps cut bread, final prep on food and also to keep glasses upright; pack a small chopping board to use for slicing, prepping and then as a hard surface for your drinks.
Be sure to pack napkins, cutlery, plates and glasses. There are some lovely picnic sets available, and it's better to choose reusable than single-use plastics.
Bring a bag to take any rubbish home and leave no trace.
Wicker picnic baskets are very charming but are more suitable for picnic spots where you don't have to walk too far as they can be cumbersome. A backpack or tote bag with a chiller compartment is far more practical if your picnic is part of your hike in the Wicklow Mountains.
Wicklow has no shortage of beautiful places to eat outdoors, but we are also lucky to have an array of lovely local food to enjoy too. Here are some delicious picnic food ideas from our outstanding Wicklow food producers:
Have a wonderful time on your picnic! Relax knowing that by supporting local producers, you are playing your part in keeping Wicklow sustainable and beautiful.
Photo courtesy of @santinas_irish_food_tales.