The Perfect Wicklow Cheeseboard
Wicklow Naturally
Mon 27th December 2021
A cheeseboard is a delicious indulgence at any time of year but at Christmas, a cheeseboard is an extra special treat.  After all the rich, sweet food of Christmas Day, it can offer the perfect savoury respite in the days that follow.
When the excitement of Christmas Day has passed and the last of the turkey leftovers have been used, a carefully curated cheese board with a selection of accompaniments can be a meal in itself, a final course to a celebration meal,  or just a lovely fireside snack to enjoy while watching a seasonal movie.
County Wicklow offers a huge variety of cheese – and not just cow's milk cheeses! Wicklow Naturally has goats and sheep's milk cheesemakers among its members, each one bringing a variety of cheeses to the table.
Cheddar is always a good place to start creating a cheeseboard and Wicklow Farmhouse Cheese has a variety of flavours, including Nettle and Chive and a wonderful Smoked Beechwood Cheddar.
A mature cheddar is a must-have too, and we are so lucky to be able to include Coolattin Cheddar on our cheeseboard. This mature cheddar and its sister the clothbound Mount Leinster are raw milk cheddars offering a taste of the Wicklow countryside, as they are made from clover rich summer pasture.
Soft creamy cheese is also a cheeseboard essential, and blue cheese is many peoples favourite – and again Wicklow Farmhouse cheese can offer their award-winning Wicklow Bán and Wicklow Blue to compliment our selection.
The distinctive taste of goat's cheese is always included on the finest cheese boards and Old MacDonnell's Farm has a delicious selection of mini- Chevres rolled in herbs, pepper, or chilli flakes alongside their excellent tubs of soft goat's cheese.
Not many counties can offer the final touch of sheep's cheese but the Ballyhubbock Farm in West Wicklow have a beautiful halloumi style cheese. Simply grilled on a griddle and served hot it is an unusual but wonderful addition to our platter!
Our cheeseboards are complemented with some of the fantastic range of chutneys available from our members including Beetroot Blush from Janet's Country Fayre Just Delicious and Caribbean Dream from The Birds and The Teas – but there is a huge variety available, so be sure to check our member listings to find out more, and pick your favourite.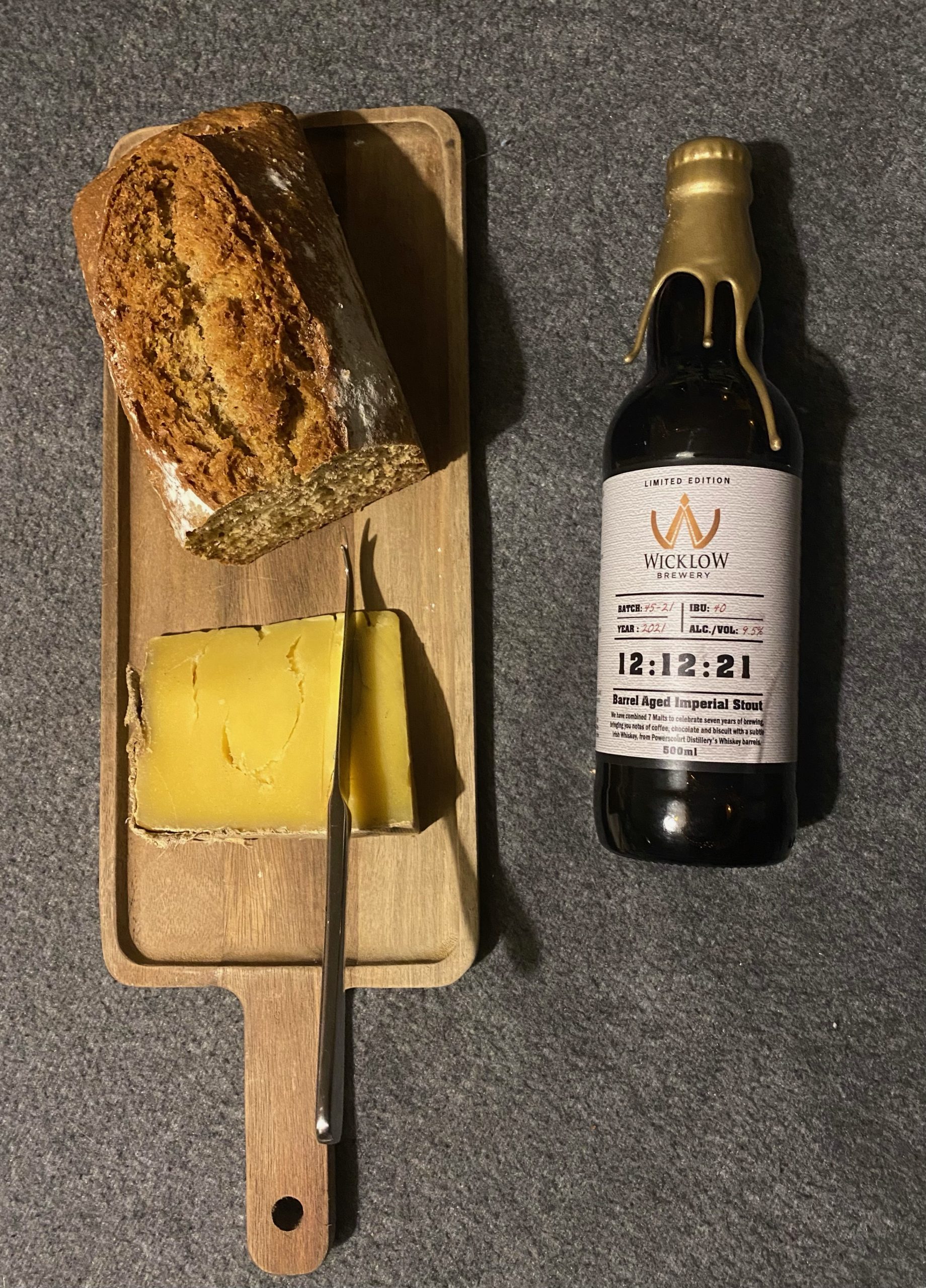 Local cheese and local honey work so well together and we can heartily recommend Olly's Farm honey from Killruddery and Powerscourt, or the lovely Heather Honey from Tara Hill Honey.
Grapes and figs often grace a cheeseboard, but we want to keep it local! We've chosen the last of the homegrown tomatoes and herbs for ours, and some slices of sharp Bramley apple, to keep that taste of Wicklow. With some melba toast made from Daisy Cottage Farm brown bread, our Wicklow Cheeseboard is complete!
The only decisions left are what to serve with your cheeseboard. Instead of imported wine, why not pair a blue cheese with the wonderful Móinéir Blackberry Wine from Wicklow Way Wines; try the Mount Leinster Cheddar with a stout from Wicklow Brewery or an ale from Wicklow Wolf Brewery; or indeed why not try Powerscourt Distillery's recommendation of Fercullen Irish Whiskey with Wicklow Bán Cheese and a drizzle of local honey.
The selection of cheese, accompaniments and pairing drinks available in County Wicklow means we can create a complete festive cheeseboard without leaving the county and we never have to compromise on quality! Enjoy!